Breaking (also wonderful and game-changing and awesome) news: Society6 just launched their new furniture collection with not one, not two, but six inaugural pieces! The collection includes a bar stool, a counter stool, side tables, a bench, a coffee table, and a credenza, all at affordable prices that will make it easy for you to dress up any space in your own style.
Pull up a seat to the bar with these bar stools. They're printed on vegan leather with gold or black steel legs with a foot rest. Whether your space needs a pop of color or your style is more monochromatic, these bar stools act as another vehicle for adding more art into your home.
The counter stools have the same features as the bar stools, just on a smaller frame so they can be used as dining chairs or extra seating.
Side tables are usually needed to fill a gap or odd-shaped space. With the new side tables, you have two choices: a square or round table top, both with a beveled edge, and black or gold steel leg colors. Your art of choice is printed with a satin finish on Baltic birch wood, so if your heart is after a marble or terrazzo table top but your wallet says no, these side tables are a great affordable option.
Another way to fill in those awkward corners or nooks and crannies in your home is with an eye-catching upholstered bench. Add a tray on top if you need another flat surface or line with cushions for a comfortable spot to temporarily rest.
We'll admit, as much as we love a good marble coffee table, its ubiquitous design makes us crave something a little more… punchier. With so many cool designs created by Society6's artists and designers, you'll find yourself wanting a coffee table with a fun pattern over the natural stone.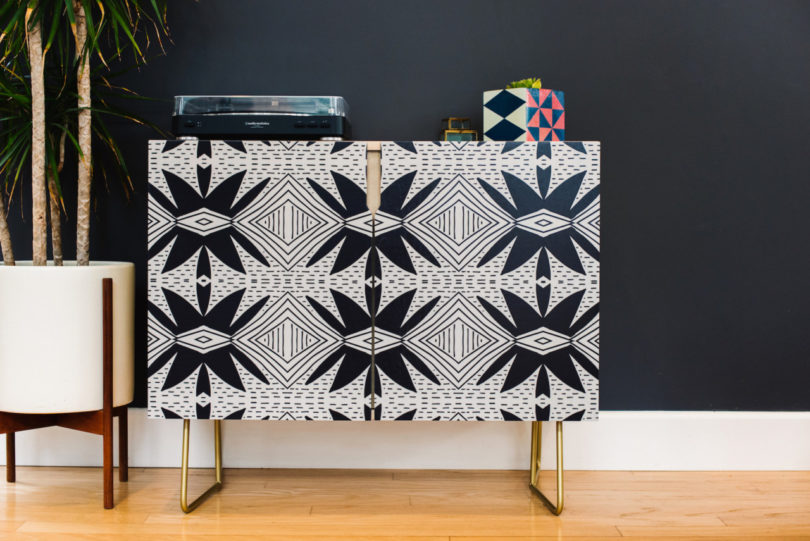 Last but not least, and certainly not the least show-stopping, the new credenzas give new meaning to functional art. They're available in natural warm birch or a premium walnut finish in gold or black steel legs. The interior shelves are adjustable, so whether you're using your credenza as extra office storage, TV stand, or bar cart, you'll be able to fit whatever you need.
Photos by Cara Robbins.
You can find all the designs in this photoshoot here.
In an ongoing effort to support independent artists from around the world, Design Milk is proud to partner with Society6 to offer The Design Milk Dairy, a special collection of Society6 artists' work curated by Design Milk and our readers. Proceeds from the The Design Milk Dairy help us bring Design Milk to you every day.