On stage at the Core77 Designing Here/Now conference—a three-day event dedicated to the exploration of the "spaces between design disciplines"—Sonos Vice President of Design Tad Toulis shared insight about the sometimes challenging friction which happens between designers, engineers, and marketing. Framing his commentary around the redesign of the company's flagship and foundational PLAY:5 smart streaming speaker, it was a refreshingly frank and passionate talk about the internal conversations which have to happen for a great idea to eventually become a great product.
Toulis' talk centered around the importance of creative collaborative conflict, specifically the importance of a confident ego as a purposeful tool in pursuit of the "great idea" while developing a new solutions. Without the courage to challenge "what is known" innovation is often stifled by fear: fear of tension, fear of being wrong, fear of challenging the status quo. Using the PLAY:5 speaker as a case study, Toulis walked the audience through the process of tearing down popularly held assumptions while designing an audio component, even beliefs so naturally assumed amongst designers as, "…but buttons are better".
"Really?" Toulis challenged, noting "when the object is the interface and the interface is the object" buttons and dials might not be the best conversation builder between user and speaker. Noting Sonos audio components are designed as the equivalent of "acoustic Legos", the company explored solutions responsive to how Sonos customers might want to use their speakers: in pairs, individually, vertically or horizontally oriented.
The eventual solution was to design a responsive "triple orientation" system with a capacitive control strip that would dynamically orient itself according to the speaker's position: while horizontal the volume controls would operate UP (right) and DOWN (left) with PAUSE/PLAY residing in the middle as the sole labeled control. Rotate the speaker into a vertical placement and the PLAY:5 reorients these controls to volume UP (top) and DOWN (bottom) automatically. Swipe to fast forward tracks. Pairing or separation of the speakers is all handled via a compatible iOS app (note: we tested using a beta of the new Sonos app) to further unload controls from the speaker to the device where the music resides. No buttons, no knobs, but all intuitive.
Sonos adopted similar measures elsewhere, challenging not only what others in the category had already done, but with the goal of evolving beyond their first generation PLAY:5 predecessor. Not all of these changes were reductive either. Sonos made use of their blank slate during the speaker's three year development to add features and redesign every component, from speakers to the branding badge: the previous model housed five speakers within, the redesigned replacement offers six; a newly developed TruePlay environmental customization software turns an iOS into a mobile calibration accessory to adjust the unit's digital signal processing output specific to any interior architecture. The 50 second process is an improvement over the single microphone calibration technique most speakers use to fine tune output, if not for the fun physicality of waving a device to and fro while walking around a room.
Besides some time with the (much) smaller PLAY:1, I had no previous experience listening to any of the larger Sonos speakers. But whether used in stereo or individually across separate rooms, it was immediately evident the Sonos team had engineered a very, very satisfying sound. In fact, these were the best wireless streaming speakers I've demoed in the home, due in part to that impressive array of six speakers that are on par with better quality bookshelf speakers. But quantity is nothing without quality, and the audio produced by the speaker array maintained clarity and separation regardless of volume level or genre played. One of each speaker was set in adjoining rooms, allowing me to experience the transitional sound while migrating from one space to the next, then paired in stereo mode.
Accurate reproduction of traditional instrumentation could be individually recognized while listening to Jóhann Jóhannsson's delicate neo-classical Cophenhagen Dreams soundtrack streaming from my iPhone, while the gauzey-shimmering guitars of Chastity Belt's Time to Go Home sound satisfyingly emotional across both speakers played using the Sonos app and Spotify*. When it was time to test the PLAY:5s in party mode, they didn't fail to bring serve the low end to the head-bobbing delivery of the Fetty Wap track, Again. Best of all, unlike my current patchwork of Airplay speakers strewn throughout the house, there are no audio sync issues between units or intermittent cutouts while streaming afflicting the Sonos system.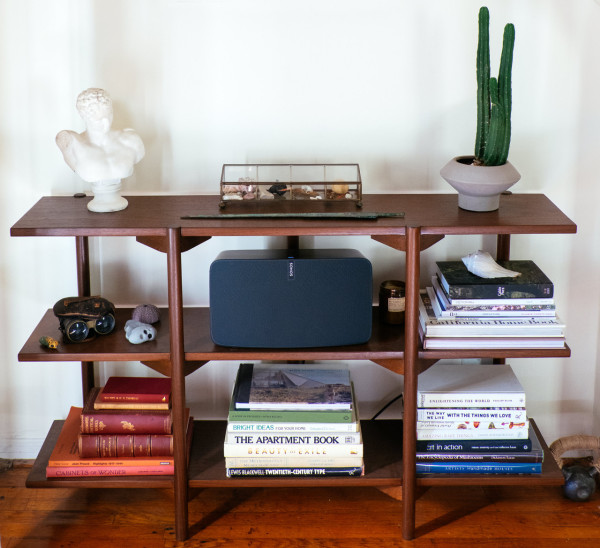 Tad Toulis concluded his presentation to emphasize embracing tension and conflict in itself is insufficient. Equally important is the need to work mindfully of others expertise/knowledge, be welcoming of criticism, adoptive and adaptive of being wrong, and to always remember to "explain, explain, explain". In essence, the resulting Sonos PLAY:5 is representative of this philosophical commitment to collaboration, as each speaker works fine by themselves, but in connected orchestration, the system as a whole produces something much more fulfilling.
*Note: Apple Music will be available on Sonos starting December 15 through a public beta program, joining a list of existing streaming services listed here.