Nico van der Meulen Architects never cease to amaze with their jaw-dropping architectural projects that will make you pack your bags so fast you'll forget to pack your underwear. Today, we tour House Serengeti, a North-facing, South African villa in Johannesburg.
They mixed materials like rock, steel, wood, and glass, all that you'd expect to see in a classic modernist design, but this time, they used them for new applications. By the way, that pool looks so inviting!
Rusted steel slats were combined to provide some privacy but also as a linear design feature.
Vistors walk a Balau timber walkway and pass over a koi pond to get to the front entrance.
The interiors were designed by M Square Lifestyle Design and they created spaces that were understated, but at the same time, elegant with warm rich colors.
A large, pivoting glass door welcomes guests without blocking sight lines.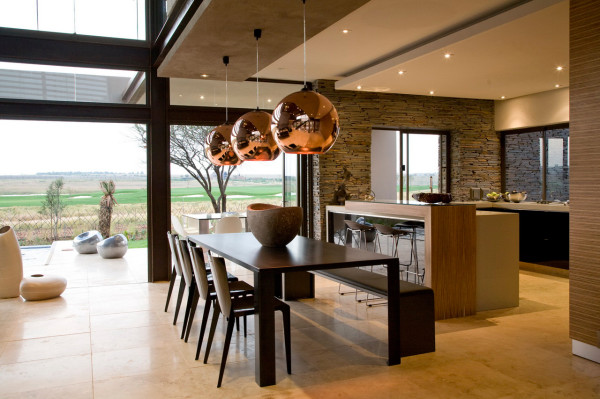 Rock covers part of a wall in the kitchen and continues through to an exterior wall.
They did the same thing in the bedrooms – rock-covered walls become focal points behind the beds.
That might be the coolest looking toilet ever.
The same Balau timber is used in the bathrooms. That's right, wood on the bathroom floor.
The bathrooms are void of any tile which is pretty cool. They used back-sprayed glass for privacy.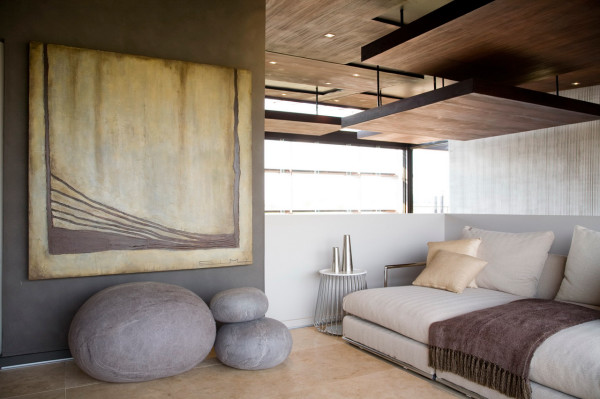 Photos by David Ross.

Design From Around The Web