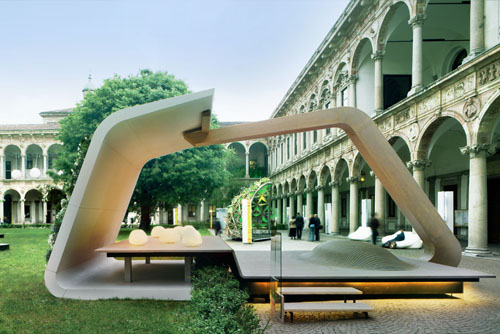 South Face by Iosa Ghini is a beautiful installation that was part of the Interni Design Energies exhibition during Milan Design Week this year.
Iosa Ghini said of the project:
Sustainable but beautiful: this is the goal I have pursued in all of my projects for years. South Face is the outcome of this constant quest for sustainable design that engages with actual production systems found on the market.

The installation exemplifies an architectural portion with a façade solution based on solar exposure. It consists of an insulated modular wall composed of hollow panels in eco-cement with quarry substrates, accommodating dense and dramatic-looking foliage.
The façade is oriented to the south, forming a vertical garden that absorbs carbon dioxide from the atmosphere and insulates the environment it encloses from humidity.

The interior of the structure is fitted with informal seating designed to beckon passers-by to stop and rest in a natural setting.

The concept of sustainability is usually associated with sterile forms in which aesthetics are often overlooked. Our installation creates spectacular aesthetic effects, making sustainability both beautiful and feasible.
Project: Iosa Ghini Associati with Il Cantiere, Vitrani and Murano Due – FDV lighting by iGuzzini.

Design From Around The Web