The two highlights of Zona Tortona at this year's Milan Design Week were old favorite Designersblock and newbie Liminal. The former is known for showcasing cutting-edge design in unusual locations and for its 15th iteration returned to its 2013 home of the Ex-Ansaldo building. The latter is the flagship show from Irish Design 2015 (ID2015), a year-long goverment-backed initiative promoting and celebrating Irish design.
The first thing I spotted at Designersblock was Heal's Bodging Milano – a showcase of the products designed and made as part their Bodging Race, a one-week challenge, which saw six makers create objects from scratch in the window of their London flagship store on Tottenham Court Road. "It's definitely a change from the studio, but it's actually been surprisingly easy to forget that you're working on a busy high-street," said William Warren. Above is Happy Feet by Carl Clerkin.
Gareth Neal's Sling Chair was the winning design and is being put into production by the British retailer as a result of the race.
Nearby Spanish designer Lucas Munoz asked, "Was the first chair a stone?" with his witty 'rock' rocking horse chair.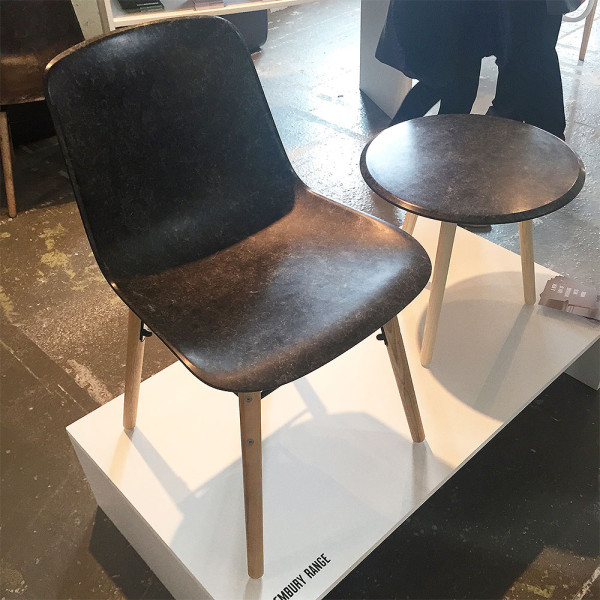 I first spotted Solidwool at the 2014 Designersblock, when they had almost figured out how to make a chair from a fiberglass-like material made from sheep's wool. They have now entirely figured it out, and were showing a production model alongside various collaborations with other brands and designers. Wanting to invest in their local area, co-founders Justin and Hannah Floyd were looking for a way to add value to the declining wool industry. "Seeking to find a new way to work with wool, we have created this new material. It's unique, strong and beautiful," they said.
The word 'Liminal' describes the spaces that lie between the known and the unknown. "This exhibition explores the craft of collaboration and presents the exploratory journeys undertaken by designers," said co-curator Alex Milton.
The History Chair is the result of a longstanding collaboration between Cathal Loughnane and Peter Sheehan. Its prototype was initially featured in Vernacular by the Design & Crafts Council of Ireland at the London Design Festival in 2013, and it is now a production-ready object.
Claire Anne O'Brien's furniture draws on Ireland's material heritage and traditional techniques such as weaving, knotting and basketry. Ciséan is made from Laxtons Mill bespoke wool with ash legs and upholstery foam.
Industrial design studio Designgoat collaborated with Garrett Pitcher, creative director at menswear boutique and branding studio Indigo & Cloth, both based in Dublin, on a steel frame and leather chair and magazine rack, inspired by the notion: "If the Vikings had never left, what would Dublin as a city be today?"
And finally, I think my favorite collaboration was between Mourne Textiles and Notion Design. Notion Design Studio designed the Frame chair and side table to complement the Mourne Milano rug, designed by Mourne Textiles founder Gerd Hay-Edie and exhibited at the Triennale di Milano in 1951.

Design From Around The Web