Specialized's 3D-Printed Matrix Mirror Saddle Is Designed to Go With the Flow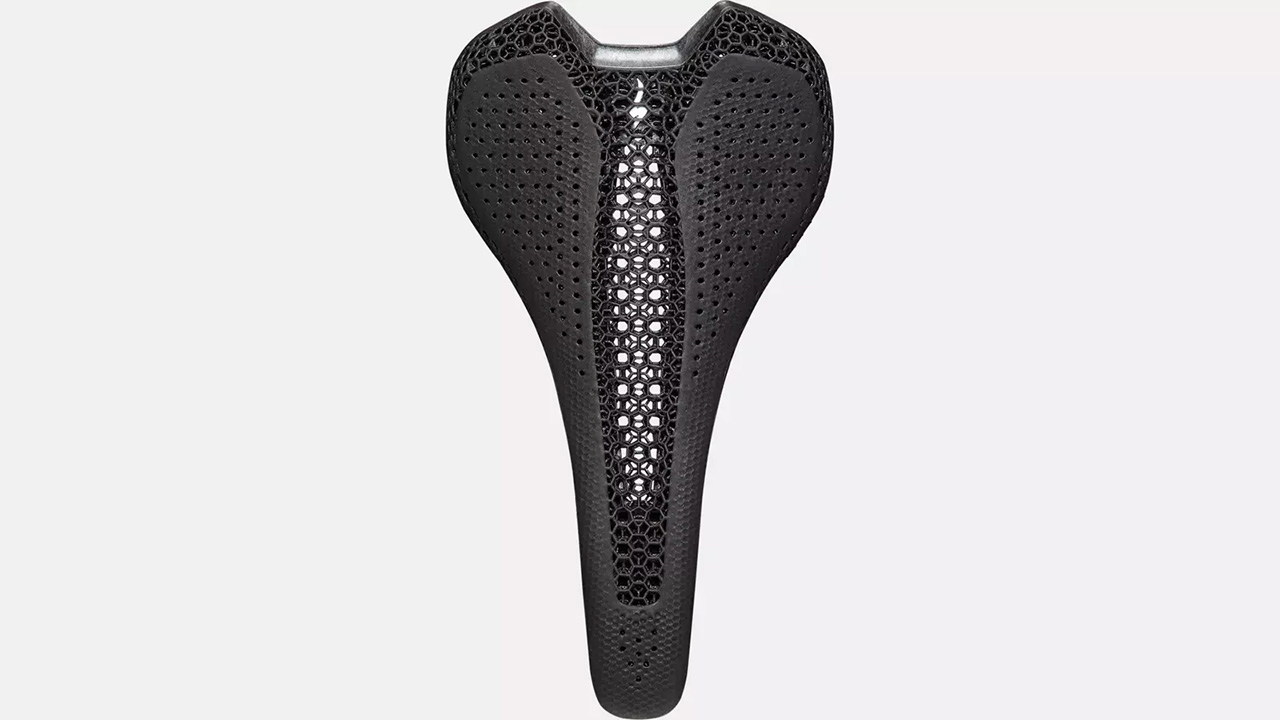 Specialized's 3D-Printed Matrix Mirror Saddle Is Designed to Go With the Flow
1/10 Photos
2/10 Photos
3/10 Photos
4/10 Photos
5/10 Photos
6/10 Photos
7/10 Photos
8/10 Photos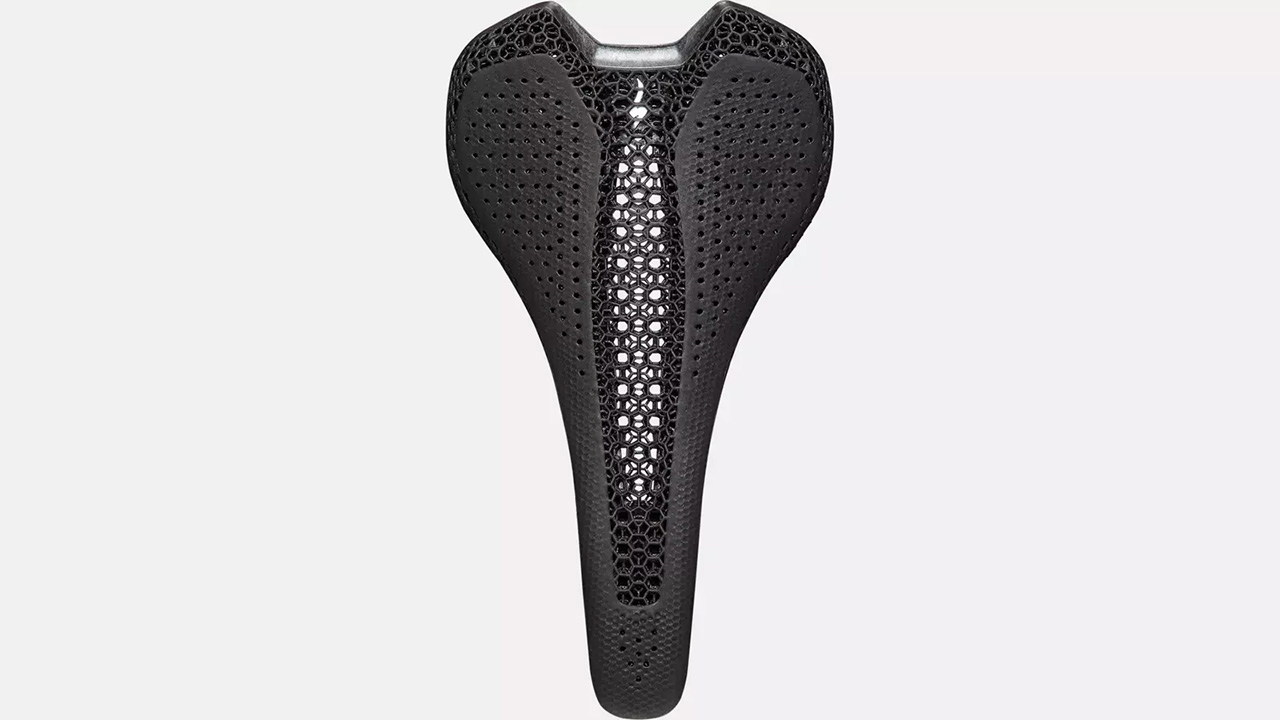 9/10 Photos
10/10 Photos
Even if you only harbor a passing interest in bicycles recreationally, there's a good chance the name Specialized rings a bell. The brand's range of mountain bikes (and other cycles) are coveted for their combination of cutting edge technologies and performance. Specialized is equally popular with seasoned riders who grew up riding hardtails as they are with the new generation accustomed to technologies that allow riders today to carve trails faster, farther, and more comfortably than ever before.
Specialized recently approached us to demo one of their more capable electric mountain bike models. But during this test period we became immediately enamored by the bike's most intricate and ergonomic component: its saddle.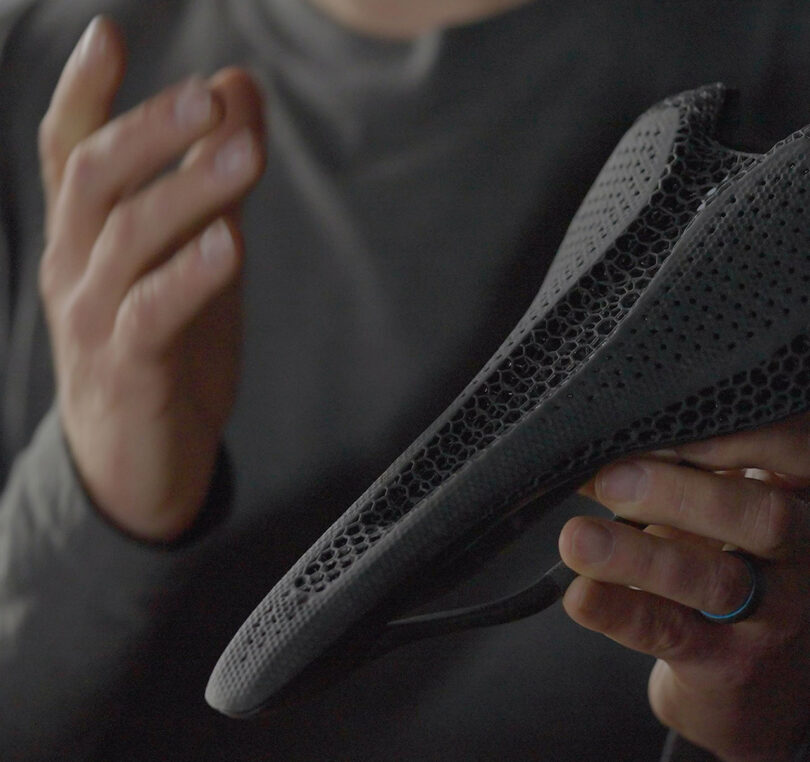 The brand's catalog of seat accessories varies across size, application, and materials, with many identifiable to the everyday rider as something like a typical bike seat. But four of their highest grade models – Power Pro with Mirror, S-Works Power with Mirror, S-Works Romin EVO with Mirror, and Power Expert with Mirror – exhibit a curiously complex perforated pattern that stands out.
The four Mirror technology seats are expressed in ornate detail, especially the most intricate model. But the saddle designs are not intended to be merely an aesthetic nor even a weight-saving solution as one might guess, but the outcome of Specialized's design team chasing improved ergonomics.
The physical stresses related to riding any bicycle are cumulative, small incremental pressures that in sum take their toll upon the body one bump, rock, and revolution at a time. Using high resolution pressure map, Specialized's design team was able to identify the specific points where saddles produce the greatest stress upon the body and then optimize their novel design in relation to our body's geometry – seating you might describe as designed from the bottom up.
The Mirror-equipped saddles are identifiable by their intricate formed network of 22,200 struts and 10,700 nodes stretched across lightweight carbon rails. Interlinked into a 3D-printed matrix made from EPU, a rubber-like polyurethane elastomer capable of impressive feats of elasticity, the material's characteristics impart the saddles the ability to "rebound" to effectively reduce stress upon a rider's body while riding across uneven surfaces while seated, an effect similar to adidas's efforts with 3D-printing to lessen stressors attributed to the constant pounding with every foot strike.
But in this instance, the lattice woven pad is designed to alleviate the constant barrage of pressure applied to a region of the body not evolved for such excessive force. In our limited span riding upon a Mirror equipped seat, we noted a comparable difference to the traditionally foam padded seat we're accustomed to riding upon. The saddle's feel is firm, but not hard, when pedaling normally across smooth surfaces. But when we hit more hairy sections of our local mountainside trails, the seat took on a more noticeably forgiving and responsive personality that left the backside (mostly) unscathed despite the uneven percussive force.
Specialized claims their Mirror equipped Saddle's channeled design reduces pressure by 26% compared to traditional foam saddle, an improvement in ride comfort compounded over hours of riding trails or roads. Additionally, to ensure the best fit, the range is available in varying widths, with the Power Expert with Mirror offering the widest options. Ideally, riders are paired with the right saddle size using a Retül Digital Sit bone Device, but Specialized hosts an easy, and somewhat amusing, DIY option to identify where your sit bones correlate to the widths of their saddles (aka, a "butt print," as remarked by my spouse) using nothing more than a few pieces of cardboard, a ruler, and a marker or pen.
Specialized Mirror saddles are today's cutting edge, and priced accordingly. But in time it's inevitable the 3D-printed, ergonomics-optimized approach will trickle down to become rule rather than the exceptional exception for riders everywhere.