Ok. First let me confess. I've drunk the Squarespace Kool-aid. So, much so that I even left the 'Powered by Squarespace' logo on my site, which should tell you that I have it bad. I stumbled around for years using other platforms, but when I made the switch to Squarespace, my website world opened up. Or rather, it just became easy. And without turning this into a therapy session, I also have to confess to not being the most sophisticated Squarespace user. So when Jaime asked me to look into Squarespace's mobile apps, I responded aloud, "Awesome!" But in my head, it was "Squarespace has mobile?" Devoted, yes. Advanced user? Clearly not. So, I had to catch up a bit. And….drum roll… Squarespace has mobile!
So the basic idea is that you can create, engage and monitor your site from anywhere. Even from your Apple Watch. And although I'm skeptical of routine changes, I have to admit that it all sounded appealing. Squarespace has taken their easy-to-use, yet beautiful approach and put it all in a mobile package? What's not to like?
Note (IOS/Android)
Note is an elegant way to record your thoughts on the go. I'm an avid note taker so I was a little skeptical as to whether the Squarespace Note app could replace the Note app already on my phone. (Spoiler alert: I've already confessed to drinking the Kool-Aid, so I think you know where we're going here). For me, the big selling point of the app is that you can add images to your note. This is hugely helpful if you're trying to record your ideas. In addition, the app is pretty. And if you're a visual person, which of course you are because you're here, this is huge. It's also straightforward to send the note to your Squarespace account, email, etc to remind you to act on it later.
Blog (IOS/Android)
The Blog app is the key to turning those notes into content while you're on the go. It gives you the power to author and manage your blog content, when you're away from your computer. It's a recognition that the best ideas don't necessarily happen when you're sitting in front of your laptop. So being able to capture a thought (or make use of time online or in transit) can be extremely powerful. And, of course, there's always that situation where you realize you made a mistake—Blog lets you correct that error as soon as you notice it.
Analytics (IOS only)
The average user monitors their Analytics several times a day. So rather than being tethered to a machine, this app is all about allowing you to do it on the go. It particularly shines on the iPad where it displays in a beautiful grid and you can touch on a tile and create an interactive animation. Touch screen aside, it's still an elegant way to get the information you need about the content you're creating on Squarespace, which allows you to create better content. As anyone who has a site knows, measuring interaction is part of the full cycle of content creation.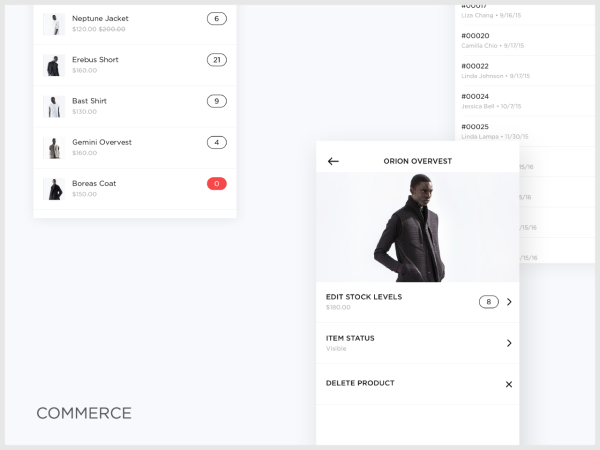 Commerce (IOS and Android)
Even if you don't have a commerce component to your website, the fact that this app even exists is going to make you consider adding one. Here's the coolest thing about this app: you can simply take a photo of the shipping bar code, and all the shipping/tracking information (including whether you're using UPS, USPS, or FedEx) is automatically populated. With a single push, you can send that tracking information straight to your client. Basically, you'll never again have to enter a tracking number. Cue sound of mic hitting the floor. You can also manage inventory and see your orders broken up by pending, fulfilled and cancelled. It allows you to keep your business moving while you're doing the same.
Portfolio (IOS only)
If you have any type of business or hobby that is image-based, you need this app. It allows you to easily share those images (or video) even when you're not connected to the Internet. Not only is being wi-fi independent a huge advantage, but you're also not futzing with pulling up a website when what you really want to do is show people your work.
If you've read this far, I think it's safe to assume that you've drunk the Kool-Aid too. So you might as well download the apps and get creating. And if you're already using the apps, we'd love to know what you think and what you're using.
Try out Squarespace with a free trial and all their apps, and get 10% off your first purchase using offer code DESIGNMILK.