Studio Lawrence unveiled two new products last week at the 2010 Interieur show: To Gather, a modular sofa system, and Wonky chairs. These new pieces are the sculptural additions to designers Patrick de Louwere and Bart Eijking's furniture collection. Fun and playful, they are just odd enough to be endearing.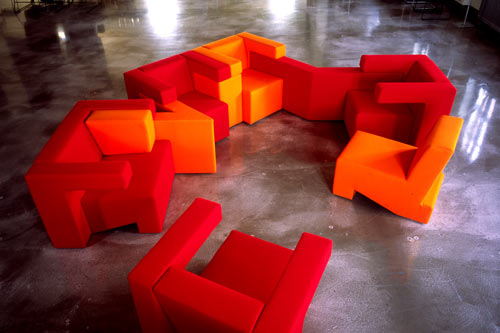 To Gather
The modular sofa system by Studio Lawrence injects interaction with an angle.
To Gather comprises individual tactile elements, designed to be pieced together creating endless seating combinations that can continually transform. A two-seater linear sofa can convert into a loveseat, seats lined up in a waiting room or corporate lounge can become colorful constellations encouraging engagement.
The solid and robust forms of the individual seats are an exploration, an abstraction of a chair. The standard seat is 50cm wide and is available with a set of arms, a single arm or without, and a wider 75cm option with arms can hold a square felt-covered cushion to be used as a surface for working on or a laptop. These individual seats can then be linked using a variety of angled and square connecting elements creating endless seating combinations.
Playful, sophisticated and engaging, To Gather creates new possibilities and perspectives for friends, family, colleagues or clients to congregate, interact and explore together.
Wonky
Playful, sculptural and dynamic, Wonky immediately arrests its viewer.
Ostensibly, the Wonky is simple; a monochrome solid wood seat sits on a metal frame. The chair appears different from every angle however, as the seat is asymmetrically cut in wonky shapes. Simplicity offset against asymmetry and perspective causes the viewer to question their very own eyes.
Five asymmetrical Wonky seats are available in black and white and can be placed on complementary or contrasting black or white metal frames creating twenty variations to choose from. Seen together, the varying Wonkys form a quirky sculptural landscape and create new playful perspectives around any table. Create your unique combination and for further personal touch, add a round black felt cushion for extra comfort and contrast.