Founded by 2nd generation woodworker C.C. Boyce, Los-Angeles-based Boyce Studio creates handcrafted products from FSC-Certified lumber and other locally sourced components. The wooden planters are each made by hand in their downtown LA studio with careful attention paid to details and finishes, which includes a final finish in a low VOC wax/oil combination. The studio just launched their latest collection of planters, which includes The Kelly, Emelina, Nellie, and Chester. Take a look.
The Kelly is the most modern with its rounded bottom and geometric silhouette. The planter is completed with an ebonized finish which happens when a natural chemical reaction turns a light wood to black. It comes with a glass holder that perfectly fits a 2″ succulent, along with drainage rocks.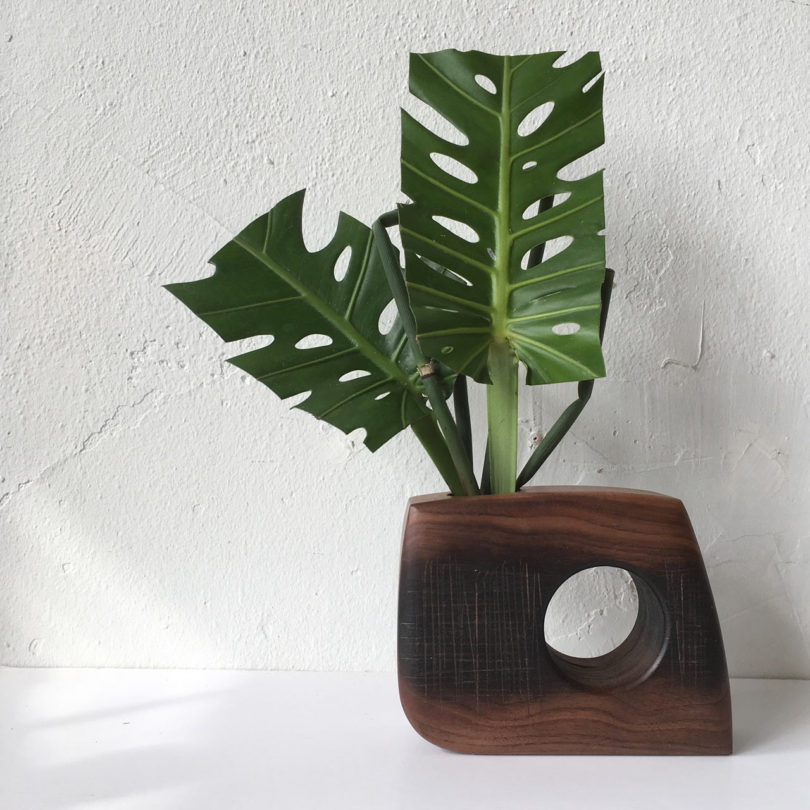 Emelina, named after C.C.'s 3rd great grandmother, is hand shaped to give it its sculptural, rounded edges. Made of walnut, the planter is first shaped, then sanded, burned, and carved before being coated in its final wax/oil combo finish. It comes with an Ikebana pin frog so you can create flower arrangements.
Nellie is a vessel inspired by ceramics and named after a family story in which C.C.'s great grandmother took her husband lunch every day in a buggy guided by a blind horse named Nellie. The geometric vase is bleached, speckled, and then finished for use. It also comes with an Ikebana pin frog for flower arranging.
Chester is a hand carved succulent planter or vase complete with a glass holder inside to protect the wood from water. The piece is carved as a stone sculpture would be, which is what inspired the texture on the sides.
Planters from original collection:
C.C. working in the studio:

Design From Around The Web