Overlooking West Grand Traverse Bay in Northern Michigan, the M-22 House sits along the top of a ridge and combines a touch of rustic with clean modern lines to blend in with the home's environment. With Michael Fitzhugh Architect at the helm, the house reveals itself, much like the views discovered once the back of the ridge has been ascended.
The residence nestles in perfectly on the lot and from each room, a connection to the surrounding landscape is felt. The feeling is also helped by them utilizing materials that were inspired by the elements.
The home's exterior is made up of concrete, steel, composite siding, and expanses of glass, breaking up the large exterior forms.
They incorporated geothermal heating and cooling systems combined with its own hydroelectric power generator that uses rainwater, geothermal water, and gravity to generate power to run the house.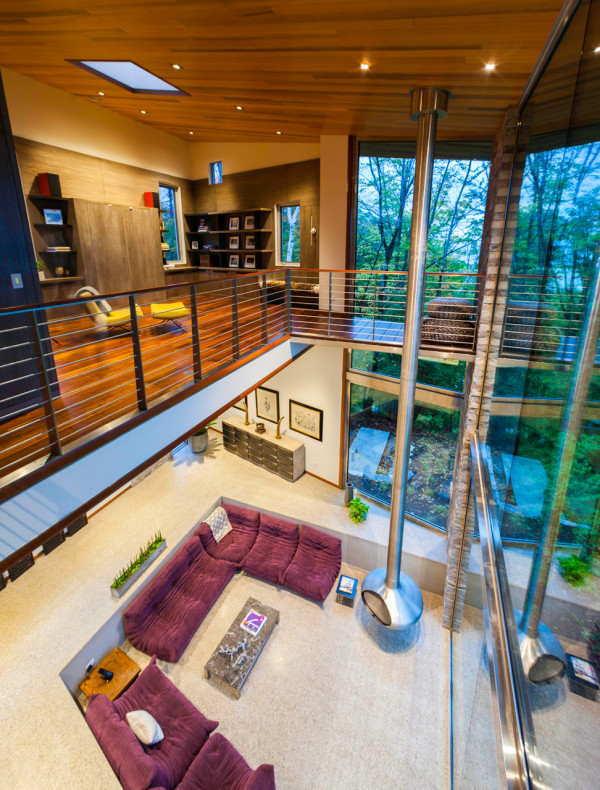 A sunken living space sits within a room that has double height ceilings. The suspended fireplace make quite the statement with the super long vent.
The interior is open and spacious with wide walkways and large panels of glass. The walls and ceilings downstairs are white but the second floor ceilings are covered in wood creating a bit of coziness. How perfect is the purple Togo sofa from Ligne Roset?
The sunroom is all about the outdoors with windows framing the incredible view.
I love the wood they used throughout, helping to warm up the modern space.
Photos by Dietrich Floeter Photography.

Design From Around The Web