Syng Cell Alpha Audio Speaker's All-Encompassing 360 Degrees of Sound + Design
Syng Cell Alpha Audio Speaker's All-Encompassing 360 Degrees of Sound + Design
1/10 Photos
2/10 Photos
3/10 Photos
4/10 Photos
5/10 Photos
6/10 Photos
7/10 Photos
8/10 Photos
9/10 Photos
10/10 Photos
The Rosita Vision 2000 stereo system designed by Thili Oerke remains one of our favorite audio systems, a striking spherical audio space station that looked especially futuristic while flanked by a pair of Audiorama 4000 loudspeakers. The late 1960s audio system still looks refreshingly contemporary today, representing an explorative era when consumer audiophiles hunger for space age designs touched almost every category of consumer goods. The newly unveiled Syng Cell Alpha audio speaker immediately caught our eyes as a descendent of that iconic design era, one updated with the latest in audio technology and mobile connectivity.
The Cell Alpha is the brainchild of former Apple lead designer, Christopher Stringer, one of the creative minds who toiled from Cupertino to help develop many of the most iconic Apple devices, including the iPhone, iPad, MacBook and Apple Watch. Partnering with another ex-Apple audio engineer, Afrooz Family, alongside DC Shoes co-founder Damon Way, the trio's ambitions were to design an "accessible" audio speaker capable of aurally and spatially inhabiting a room in ways no small wireless speaker could. Of course, "accessible" is a subjective adjective here, noting a pair of Cell Alpha speakers starts at $3,600 – not extraordinarily high within the realm of audiophile gear, but still a handsome sum for an equally handsome design.
Syng underlines their speaker benefits from the development of their own Triphonic driver technology, one engineered to produce a "clear, detailed…and fully immersive experience" using a trio of tweeters and mid-frequency drivers paired together and arranged in a ring for 360º output. Additionally two woofers are positioned both facing upward and toward the floor to serve lower frequencies, with three microphones perpetually monitoring spatial acoustics to automatically adapt output to the environment.
It's obvious Syng's ambitions here are not to compete with the numerous affordable standalone wireless speakers already available, even one as laudable as the HomePod which Syng's Afrooz Family worked on, but realize a sound as immersive as a 7.1 setup using a three-element, two-way beamforming array.
A "Syng Space" iOS or Android app pairs speakers over 2.4GHz and 5GHz Wi-Fi, with Bluetooth used to set up each speaker. The Cell Alpha works with AirPlay 2 and Spotify Connect and can also be set up to work as one eye-catching pair to flank a television (using an optional HDMI ARC adapter).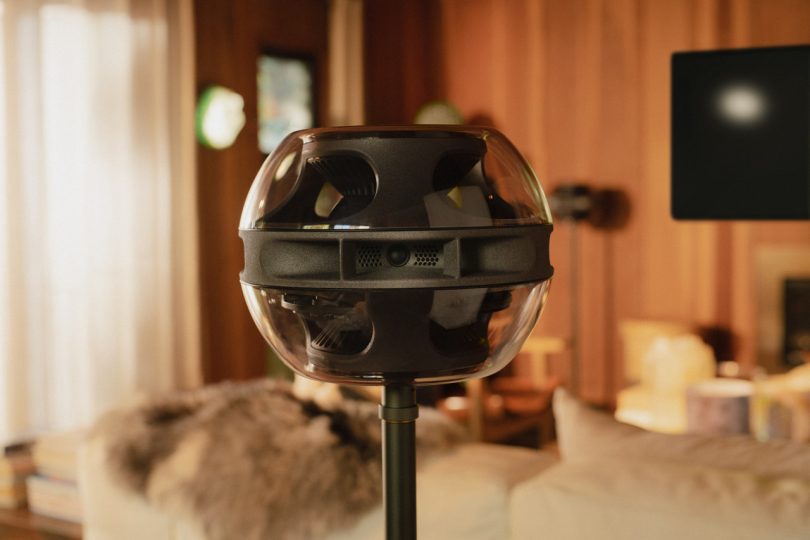 The Cell Alpha with Table Stand launches at $1,799 per speaker, $1,969 in its floor stand iteration. There's also a $49 proprietary Syng Link HDMI Cable that allows the speakers to connect to a television as a home entertainment audio solution.