Japanese artist, and main designer of the space, Takane Ezoe eventually partnered with Modourbano to complete this live/work loft in the center of Milan called T House. Situated near Basilica di Sant'Ambrogio, the space is prime location and had great bones to make an artist feel right at home.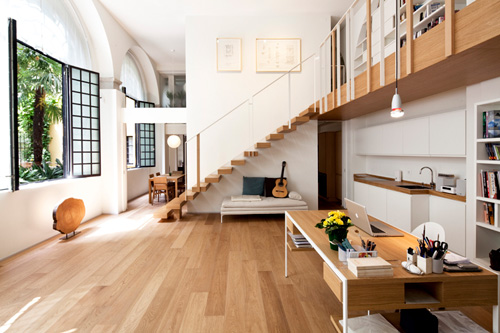 The studio
The high ceilings make way for tall, curved windows that let in tons of light, necessary when you're creating, working, and exhibiting your work under one roof.

The studio
The space is broken up for its different uses including a gallery area to exhibit work, a studio for working and creating, archives to store older work, the residential area, and a separate little apartment area for a tenant or guest.

The studio looking into the living/dining/kitchen of the residential area
The walls are kept white making the artwork pop against them. It also gives the entire space a cohesive feel, along with the wood tones throughout.

Dining room/Kitchen
I love the greenery!

Living room

Living room

Kitchen

Loft bedroom

Bathroom

Gallery
All of the paintings throughout are by Takane Ezoe, the homeowner.

Gallery

Archives
Photos by Alessandro Digaetano.

Design From Around The Web