The Tactile Satisfaction of Azio Keyboards Is Just Our Type
The Tactile Satisfaction of Azio Keyboards Is Just Our Type
1/14 Photos
2/14 Photos
3/14 Photos
4/14 Photos
5/14 Photos
6/14 Photos
7/14 Photos
8/14 Photos
9/14 Photos
10/14 Photos
11/14 Photos
12/14 Photos
13/14 Photos
14/14 Photos
A keyboard can reveal a lot about its user. Depending upon the design and layout, they can divulge whether you're a gamer, your color preferences, the software you regularly use and even what you like to snack upon at the desk ("Why yes, I do love chocolate chip cookies! How did you know?"). With an ever increasing selection of keyboards being designed, it's easy to express yourself beyond the standard model that came with your desktop or to use externally with a laptop. Which brings us to Azio, a keyboard brand offering input devices with a unique and indelible sense of style.
Azio's catalog of keyboards include several contemporary designs, including colorful options and even ones treated to keep microorganisms from proliferating across their surface. But it's Azio's Retro Classic Collection which stands out as their most distinct, an array entirely committed to the collection's namesake and featuring designs that land somewhere between a contemporary and a steampunk aesthetic.
As someone who switched to a compact keyboard for the purpose of retaining as much valuable desk space alongside preferring the ergonomics of a smaller layout, I tried out Azio's Retro Compact Keyboard (RCK) with a bit of trepidation. Upon unpacking, it became immediately obvious this keyboard fashioned after a vintage typewriter isn't merely an aesthetic treatment, but exhibits a surprising degree of heft compared to the typically lightweight and plasticky finish of most contemporary keyboards.
Even at with a truncated layout, the Retro Compact Keyboard (R.C.K.) offers an extremely solid desktop presence, one that won't slide around while in use, and can be easily be adapted for both Macs or PCs – a switch on top allows for toggling between different keyboard layouts specific to each operating system (Mac-specific keycaps are also included). That weight is attributed to the materials Azio uses to build their keyboards: durable zinc alloy frames with genuine leather or wood veneer across the top.
The keys themselves are satisfyingly solid, with enough tactile travel to make touch typing a reality, and each is backlit for improved nighttime accuracy. Azio also includes a matching palm rest, a set of interchangeable feet to adjust typing angle, a USB Type-C cable for recharging or to switch from wireless Bluetooth connectivity to wired mode and one last surprise – a small dust brush for keeping the keyboard clean from the aforementioned chocolate chip cookie crumbs and any other debris. Azio also offers a matching leather wrapped wireless mouse and Retro Classic mousepad to complement and complete the retro-themed design.
Compared to the brighter sounding clickety-clack of my current NuPhy F1 keyboard, the R.C.K.'s round keycaps produce a deeper, filled-out keystroke similar in tone to a brown switch suitable for working in the presence of others, while still delivering enough of an audible feedback to satisfy mechanical keyboard adherents. I was worried about how difficult it would be switching from my existing keyboard, but the R.C.K.'s subtly concave keys help the adaption from rectangular to circular keys, and within a half an hour I was typing with a workable degree of accuracy with hardly a typo.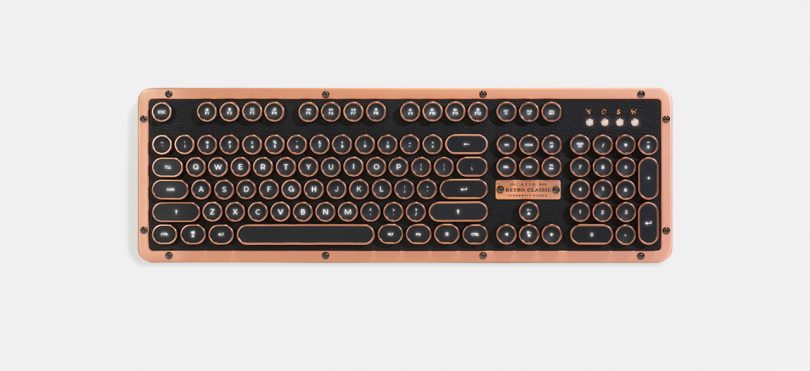 >>> Shop the Azio Retro Collection here, and for more home office accessories click here! <<<