Take Time Is a Home Near Brescia Filled With Hues of Blue and Grey
Take Time Is a Home Near Brescia Filled With Hues of Blue and Grey
1/20 Photos
2/20 Photos
3/20 Photos
4/20 Photos
5/20 Photos
6/20 Photos
7/20 Photos
8/20 Photos
9/20 Photos
10/20 Photos
11/20 Photos
12/20 Photos
13/20 Photos
14/20 Photos
15/20 Photos
16/20 Photos
17/20 Photos
18/20 Photos
19/20 Photos
20/20 Photos
Located in Bovezzo in the foothills of Brescia, Italy, the Take Time residence is a renovation project completed by Flussocreativo Design Studio for a young homeowner longing for a modern retreat. The light-filled interior feels calm yet happy with hues of blue and grey, along with a few hints of bold color. Black and white details round out the design plan for a stylistic and welcoming interior.
The villa houses residences belonging to three brothers of the same family who are also in business together. The brother who scored the ground floor here has a "sunny disposition" which is now reflected in the home's new design.
The massive main space joins the kitchen, dining room, and living room, each flowing into the next thanks to the cohesive color scheme and material choices.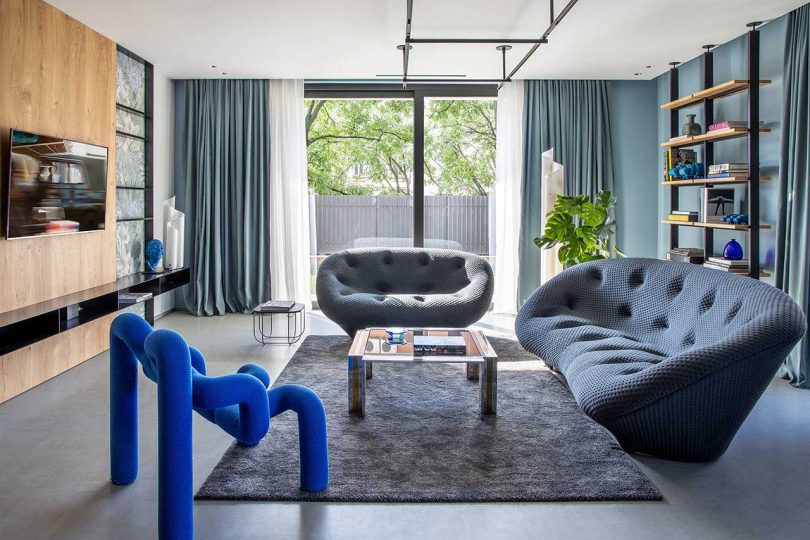 The living room features two ultra comfortable Ploum sofas by Ronan and Erwan Bouroullec for Ligne Roset.
Furnishings and accents in Yves Klein Blue pop against all the grey and lighter blue hues throughout.
Photos by Giorgio Baroni.