Eszter Imre is a designer and ceramist from Hungary, living in Sweden. Her collection of porcelain jewelry and tableware is inspired by some of my favorite beverages: coffee and tea.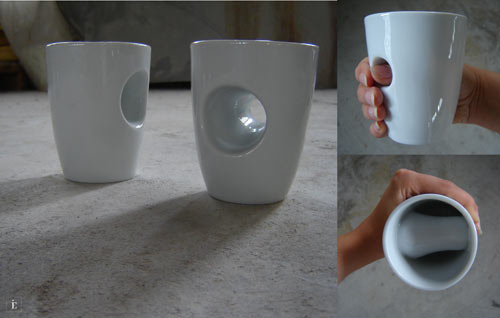 Hug-cups are special tea cups in which the handle allows you to hug the cup with your hand while still feeling the comfort of a handle.
The hole cup creates an intimate tunnel through the cup itself for your finger.
Coffee-spot espresso cups shows you where to place your fingers on the hot cup to avoid getting burnt. Also used as extra insulation, the fabric dots allow you to enjoy your coffee piping hot.
Table-wear is jewelry inspired by tableware, such as tea pots, tea cups, and saucers. Instead of being table jewelry, these porcelain pieces becomes jewelry of the body.