I could not be more excited to talk to Aurelie Tu. Not only do I admire what she's doing with Craftedsystems, but I can't get enough of the gorgeous texture of her designs, patterns and wall panels. Her soft, textured vessels beg to be touched and played with rather than just looked at. And while they might not be visually reductionist, they are definitely reductionist in nature—from the lack of tools and glues needed and the material waste used to make the vessels. Here's what she had to say when I spoke with her:
Your background is in industrial design, creating primarily tech devices, so how did you end up designing soft, felted products?
My entire career has revolved around design of technology for consumers. While consulting in Los Angeles, I designed numerous consumer electronic products like laptop computers, computer peripherals, desktop printers, projection TVs, speakers and consumer personal care appliances. While at Nike, I was in charge of all the women's wearable electronic products from timing/vision/tech, including digital sport watches, sport audio players & accessories, heart rate monitors, sport performance and sport culture eyewear. This work is exciting in that it solves real problems for specific consumers, and with increasingly sophisticated materials/processes, one can explore boundless opportunity for solutions. The one element I felt was missing, however, was the organic component, the natural and tactile qualities of materials, and a human touch.
How did Craftedsystems begin? 
Crafted began as an experiment with an alternate business model. At its core is using design and handwork in helping others, working with and for local communities, and using design/production as a means for betterment. This contrasts starkly from making/selling traditional craftwork or appropriating ethnic cultures' work and selling it locally. I created a system of weaving which is easy for anyone to do, doesn't require particular skill, and is intended to be done in groups. The pay is a very good wage paid per piece; thus it is incentive-driven, and not hourly, which is even more satisfying once the skill is learned and one wants to weave more and also be paid more. The weaving itself is often called "healing handwork"; doing something creative and repetitive which produces a tangible result, and is a modern form of therapy for those in difficult circumstances. I collaborate with two local organizations for production which have both been amazing to work with; the YWCA and P:EAR, a homeless youth (15-24) organization in Portland focussed on creativity and art.
How did you come up with the specific interlocking patterns for Craftedsystems? What is the process of creating a piece look like?
Craftedsystems is a forum for experimentation. My intent was to create something using technological/design innovation aligned with handcraft. The first products I created were from felt, and they involve a very simple system of slots and tongues whereby the felt locks into itself without need for stitching or mechanical fasteners. I also turned the system inside out, so that the part people normally wouldn't want to look at becomes the visual identity for the product line. The process is simply an interative process of creating new geometries and patterns, and seeing which ones are simple to produce and result in an aesthetically pleasing form.
When you made your the first Craftedsystems pieces, why was felt your choice of material? 
I selected felt for its inherent organic quality; felt is made from pressed wool, and was the very first textile man ever created. Its beautiful thickness and solidity was what attracted me to it; it is both solid and surface simultaneously. The fact it could be structural and flexible is what intrigued me to vessels and voids.
There's something about your work that makes one want to reach out and touch it – to feel the texture and try and understand how all the pieces fit together. Was this intentional?
This is perhaps resultant of the fact I wanted to incorporate handcraft as a distinct design element; the fact that no machine could produce what these people are able to weave.
How does Craftedsystems reflect your own personal style?
I suppose it combines several elements of my own personal style, although that wasn't intentional at all. I am passionate about modern design, innovation and technology, but also have a deep affinity for materials and textures, and I love both crisp geometries and flowing organic forms.
You're an avid traveler… is this where most of your inspiration comes from? Tell me more about where these patterns and shapes come from.
Travel for me is an essential part of experience outside your sphere of comfort; being exposed to ideas and philosophies which are different from your own is creatively expanding, which I believe feeds the richness of one's ideas. The patterns I use, however, tend to be more geometric and elemental in nature, and may be coincidental in reference but in substance probably extend more from modern design or natural geometries (like fibonacci sequence) than from a specific cultural root.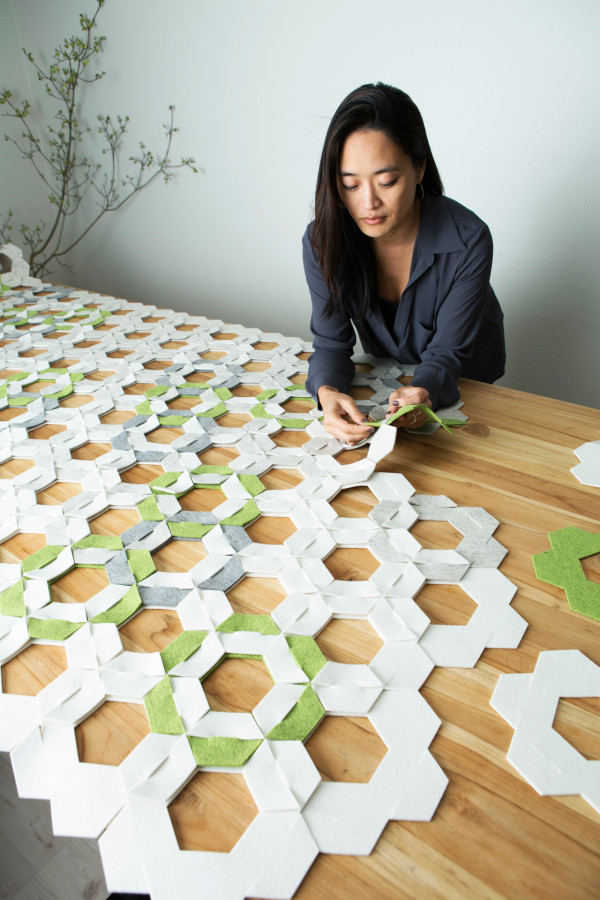 Which Craftedsystems work is your favorite? Why?
My favorite is the Asira [pictured below], which is now being produced by Ligne Roset in France, who, by the way, has reorganized their production line to utilize waste material from their furniture lines, and to specifically employ people with disabilities for the handweaving process.
What are you currently working on?
I'm in the process of creating another series of wallhangings for Room & Board, as well as a series of vessels for their collection also.
What's next?
I'm looking at different combinations of materials for some hybridization of material/form for future projects. We're also hoping to work on more collaborations with Room & Board and other partners as well.
This post made possible by MSN. The new, faster MSN keeps you in the know.