The Best Modern Gifts for the Quintessential Host
The Best Modern Gifts for the Quintessential Host
1/11 Photos
2/11 Photos
3/11 Photos
4/11 Photos
5/11 Photos
6/11 Photos
7/11 Photos
8/11 Photos
9/11 Photos
10/11 Photos
11/11 Photos
Choosing the right gift for the host of a holiday party can be tricky. You want it to be something they'll love, not something they'll regift a few days later. They shouldn't feel pressured to share it with their guests, or that they need to open it immediately. Most of all, it should be a thoughtful addition to some aspect of their home. We've got a few of our own parties on the calendar over the next few months – here are 10 things we'd love to gift or receive. (And there's zero shame in picking up multiples of a great find.)
These fabric napkins are amazing for a few reasons. First, the available color palette is incredibly eye-catching. Second, hemp doesn't require much water to grow, replenishes the nutrients in soil, and has a higher carbon storage capacity than cotton. And because it's naturally organic it doesn't require any herbicides or pesticides. This is a great choice if you're familiar with the colors your host favors in their space.
Playfully colorful and geometric, this candlestick is made from leaded crystal glass. Because it has a higher index of light refraction than standard glass, it bends light and mimics the sparkle of a diamond. And since it's heavier than standard glass, it's not moving any time soon. Someone might feel like it's for special occasions, but they were designed with everyday use in mind.
With all natural ingredients, zero sugar, and no preservatives, Figlia is a win-win-win. Notes of rose, bitter orange, and clove are lovely. It's ideal for recipients of a bottle to enjoy whenever. Upon visiting the website, they'll find additional recipes to concoct and sip while, I don't know, sitting around a crackling fire or something equally delightful.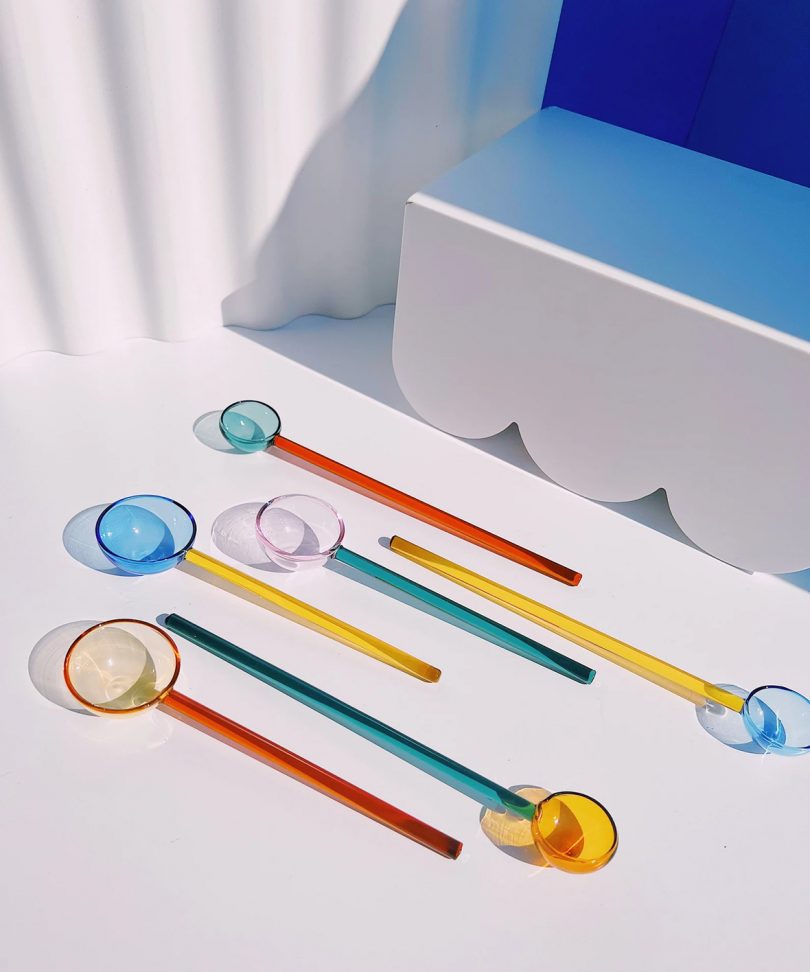 These limited edition glass spoons are handmade in the USA and they're sustainable. Thick borosilicate glass in vibrant colors give them their sturdiness and a lollipop-like appearance you can't help but touch. They're ideal for everyday uses such as honey, sugar, etc., but the recipient should feel free to think outside of the box. Eat dessert, stir cocktails, or even leave out as decor. Each spoon comes in a portable, reusable case made with sustainable wheat paste.
This is basically a 2-in-1 gift once you pick up a small bouquet to place inside this buttermilk pink vase. The vessel only adds to the naturally occurring art of the flowers and vice versa. Handmade in North Carolina from lead-free, glazed white porcelain, it's a piece they're likely to place on a table or shelf even when it's not in use.
As an admitted cutting board addict, I would be thrilled for a guest to walk through the front door with this in hand. It features professional grade plastic for food prep or presentation, and is dishwasher safe – so they'll have one less thing to scrub at the end of the meal. You're giving the gift of time! There's a nice selection of colorways available, in case they prefer something other than multicolor, party-ready confetti.
Weighty and full of personality, this glassware duo promises to heighten the drinking experience no matter what's sloshing around inside of them. A shorter take on the traditional inverted triangle martini glass, we love the additional geometric touches and their pops of color. Choose from two different sets – Provence or Paris – that feature slightly different palettes. Pair them with a spirit if you're going all out.
Pineapple Collaborative began at a dinner party, so it's only fitting that The Olive Oil be on this list. USDA and CCOF certified organic, it's crafted with Arbosana and Koroneiki olives grown by the Ricchiuti family at ENZO Olive Oil Company. A drizzle is the perfect accompaniment to many a dish – including a bowl of ice cream! Consider including a pint of vanilla or a crusty loaf of bread along with it.
Handmade in Australia, each of these cheese knives is one-of-a-kind. Colors and swirls have a mind of their own, so there will be small differences. Deliver one with a few soft cheeses and jam that can be tucked away for later. (A side note that the knife should only be used with cold food goods.)
A knockout kitchen apron is perfect for the host who stays involved throughout the evening. As they schlep appetizers and drinks, give them a colorful way to keep spills off of their (sure to be show-stopping) outfit. Or they can hide it away until the next get together. This design features an array of mixed stripes and colors, woven contrast waist and chest pockets, and jacquard weave.
This post contains affiliate links, so if you make a purchase from an affiliate link, we earn a commission. Thanks for supporting Design Milk!