If you find joy in expressing yourself through fashion then there's a chance that you're already familiar with Carla Colour's vintage-made-modern eyewear. Launched in 2014, founder Carla Robertson's unisex designs are delightfully fresh and ready to be paired with whatever outfit you're wearing at any given time. We talked to Carla about how her brand came to be, how it's evolved since being launched, and how Squarespace's all-in-one platform helps keep things on track.
Carla's journey to designing eyewear was untraditional, working as a film producer and in advertising for years before finding her true passion. During a trip to Amsterdam in 2003, she came across a pair of crystal and gold cat-eye glasses from the 50s – the best pair she'd ever seen – and fell in love. A course in Color Theory brought it all together, and that was the beginning of the Carla Colour brand.
Getting any project off the ground is a daunting task, one that often requires an abundance of time and massive amounts of support. Carla had one available to her but not the other. "I had always wanted to start my own brand, but was terrified to do it! My husband was a huge supporter, encouraging me to not sweat the small stuff and be okay with making mistakes. I was pregnant with twins at the time and knew if I didn't launch the brand before the babies were born I would never do it… so I ended up birthing three babies at the same time… a boy, a girl, and an eyewear business! Crazy."
Short-sighted since her 20s, Carla developed an early interest in eyewear that would fit her tastes and needs. "I've always struggled to find frames I liked. I ended up hunting for vintage frames and adding my prescription lenses. So really, I decided to design frames I'd like to wear… and the brand was born."
We were curious how Carla Colour the brand relates to Carla Robertson the person, and her answer makes perfect sense. She shared, "I loved the stories I could create with outfits. I guess I'd call myself an introverted extrovert… I'm a quiet person but enjoy extreme personal expression in style. I feel like this balance exists in the eyewear I design. Simple, clean shapes in unexpected colors."
For the first three years of her business, she managed every facet of Carla Colour – designing the frames, building the website, managing social media, producing photoshoots, running production orders, shipping, and more. After reaching her breaking point, Carla had to begin building a team that fit in with the brand as well as its culture.
"Over the last year I have grown my team to include a U.S. sales director, Italian distribution rep, eyewear tech design team, and social media consultant. I don't have any full-time employees, the team just joins in on the process when needed. Everyone who touches my brand is kind, creative, and grounded. It's taken time to build, but I'm proud to say that I've found my people and love collaborating with them!," Carla said, speaking highly of her tight-knit team.
With her love of vintage vibes and use of color, one has to wonder about her source of inspiration. Flea markets? Old album covers? Maybe even her optometrist's office?
Turns out, Carla shared, "It comes from everywhere and anywhere! Perhaps a photo of David Bowie in the 70s might inspire a shape, or a pattern from a haute couture runway show in the 80s could inspire a color palette, or a 90s music video might inspire a photoshoot. I also love trawling through vintage frames in thrift stores and on Etsy for great style directions."
The Carla Colour brand has released several collections at this point, each one just as fantastic as the next. But, as a designer of any discipline will tell you, there's always a favorite that stands out. For Carla, her favorite is also the brand's best seller – the LIND frame.
"The way color works with the geometry of the frame always makes me happy. It was my original silhouette when I started the brand, and I still continue to produce it in different color palettes for each collection."
One of the most surreal parts of creating anything material that's sent out into the world has to be seeing it in use unexpectedly. For Carla it was musician Kelsey Lu, who was already an inspiration. "Kelsey Lu wore our Battu midnight frames at New York Fashion Week last year. I love her music and am always awed by her style!," she gushed.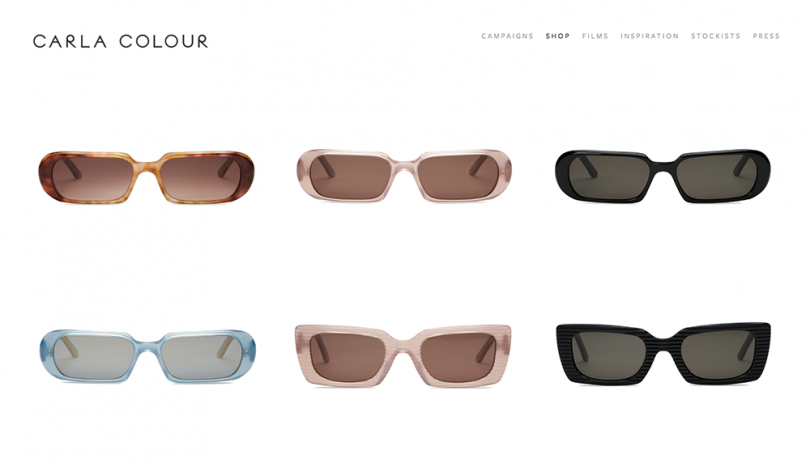 Squarespace's all-in-one online platform takes on a lot of various roles for users, the beauty of it being its flexibility of function. With Carla creating Carla Colour so quickly, their website builder became an invaluable tool, and as the brand began growing, other functions became important as well.
Carla loves that she was able to build a beautiful site all on her own, thanks to the platform. When first starting out five years ago, she chose the DOVETAIL template and has since re-skinned it with imagery as each fresh collection has been rolled out.
"I love that this template allows my imagery to really be the main event, and all other elements are minimal and clean. I customized the bottom and top navigation text to make them smaller and more minimal, working out how to write the code myself by reading forums on the Squarespace help site."
The Carla Colour store runs through Squarespace as well, using their ecommerce function. Carla shared that she's had a positive experience with the user-friendly interface that's simple and easy to navigate. The Carla Colour store runs through Squarespace as well, using their ecommerce function. Carla shared that she's had a positive experience with the user-friendly interface that's simple and easy to navigate. "From creating discount codes to making sure the correct taxes are being charged, the process has always been seamless."
Ready to get to work on your own site? Take the first step with a Squarespace website. Use coupon code DESIGNMILK at checkout to get 10% off your first purchase.