A modest brick hotel, the Carpenter Hotel, finds its place in one of the last pockets of Old Austin just as the city opens itself up to SXSW, its biggest event of the year this month. The boutique lodging is nestled in a pecan grove between the Barton Spring swimming hole and the well-visited promenades of downtown, and features a collection of buildings surrounding a courtyard and pool.
The design of the hotel and the 93 guest rooms within were spearheaded by Specht Architects, with interior design by Jen Turner of The Mighty Union and landscaping by Pharis Design. The vision for the hotel was driven by a collective sense of place with respect to the location, the neighborhood and the city. The architects have called their approach a "collage" that "merges all the parts," old and new.
The architecture highlights the natural feature of heritage pecan trees growing on the site. Any damaged trees were re-used as boards in the restaurant and lobby.
What gives the hotel its most distinguished architectural feature is a pool pavilion shaped as a Quonset hut. Adjacent to it, the new hotel building is made of a rough concrete frame with clay blocks and recycled steel pipes. An existing midcentury utilitarian union hall, Carpenter's Local 1266, was also transformed into the lobby and restaurant.
Commenting on the design, Specht Architects wrote, "There is no attempt to mimic historic styles, nor is there an attempt to follow architectural trends. It is simple and direct, and its power comes from this straightforward expression."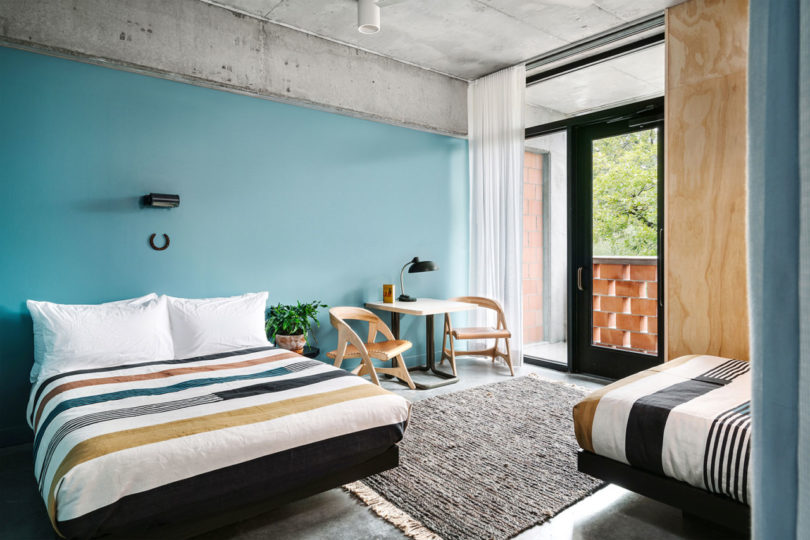 What: Carpenter Hotel
Where: 400 Josephine St, Austin, TX 78704
How much? Room prices start at USD $195
Highlights: Austin's newest boutique hotel is an understated oasis nestled in the middle of a pecan grove.
Design draw: A Quonset hut pavillion set by a pool, a preserved mid-century utilitarian hall and exposed steel pipes and clay blocks give this hotel an authentic, no frills, "as-is" personality.
Book it: Visit Carpenter Hotel
Photos by Chase Daniel.