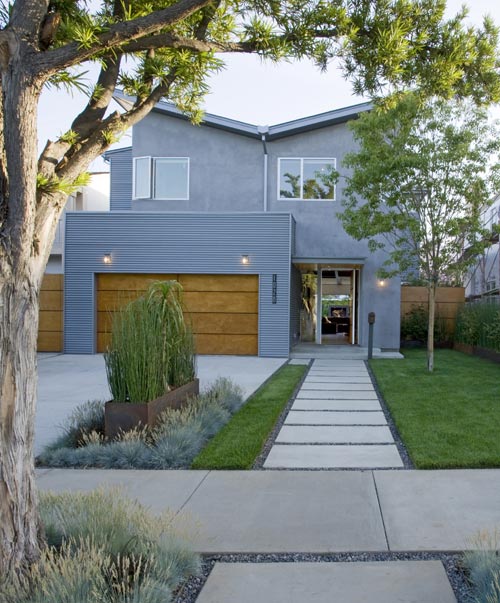 Randy Weinstein Design completed a residential home in Santa Monica, California last year for a couple with two girls and a boy who were interested in an industrial modern home that fit their Southern California lifestyle. The project was started by another architect, but the dissatisfied couple turned to Randy to help them complete their vision.
From the designer:
A poured in place concrete floor, complete with radiant heating was used throughout the first level while the second floor of bedrooms utilized large sheets of unfinished plywood. The ceilings were left unfinished to expose the wooden framing while steel beams were left unpainted and proudly display the original foundry marks from the factory workers.

The clients wanted to incorporate as many salvaged and reclaimed items as they could throughout the house, and while often challenging, these elements would ultimately becoming the defining characteristics of the house. One of the greatest finds was an antique bank vault door that we used to enclose an A/V closet. The kitchen features a vintage (working) pay phone and a dual-sided clock from an 1800's French train station.

Custom designed cabinetry is featured in every room, with tons of storage tucked into every possible nook and cranny. For the kids' bathroom, we created a custom countertop for the vanity out of Panelite which we lit from inside to create a glowing effect.  In lieu of traditional towel bars, we created our own out of industrial steel pipe fittings from the hardware store.

The second floor mezzanine is made of clear glass panels in a steel frame, which allows light to filter down to the first level.  The living room fireplace was clad in steel panels with exposed bolts and cleverly hides the TV and stereo when not in use. A wall of sliding glass panels in the living room can be completely opened up to the backyard, where the concrete floor with radiant heating extends to a large patio with built-in seating. The backyard also features a built-in trampoline and a multi-purpose sports court. The exterior of the house is a mix of smooth stucco and corrugated aluminum siding which continues through the front entrance and into the foyer.
The industrial style kitchen has custom cabinetry, white subway tiles and vintage finds like tractor seat stools. A sliding barn door (see photo below in gallery) on exposed tracks is also used for the pantry on which grocery lists and family notes are written. There's also a working vintage pay phone, but no quarters necessary!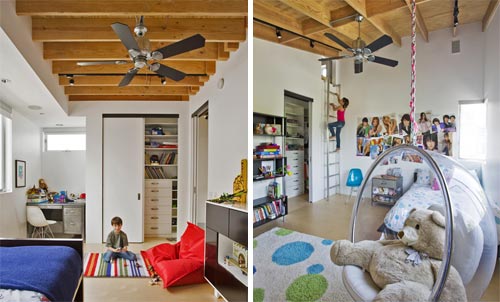 The kids rooms feature hanging bubble chairs, vintage pieces like a tanker desk and ceiling fan in the boy's room, a ship ladder to a cozy place tucked above the closets, and a sliding wall between both girls' rooms that can open up into one large space.
The master bedroom features a custom storage headboard and frame and the master bath is all luxury with in-floor radiant heat, Carrera marble counters and a frameless glass shower.