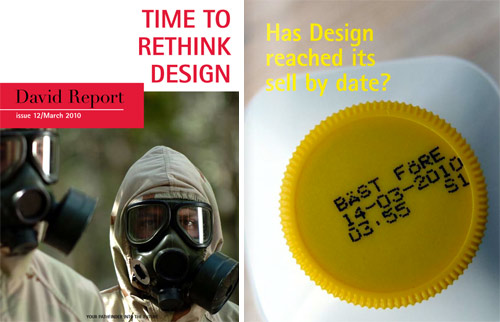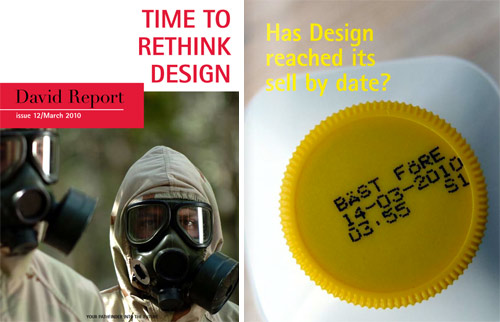 The newest issue of The David Report Trend Report asks us to face a serious design question: Is it time to rethink design?
We are facing a pandemic of "designed stuff" and we have reached a contamination point, a crisis for Design. Why are we not more perturbed and disturbed, why are we so complacent and tolerant? Should we not be calling for a guerrilla war against "designerism," antiviral campaigns against the design establishment or do we need a revolution to cut the ties with the hero´s of 20th Century Design?

The diagnosis is not making design better, but making design matter!
A very interesting article that asks some truly honest questions. You can read the whole story in the new issue of David Report called "Time to Rethink Design", written by David Carlson and Brent Richards.
An excerpt:
Designs' DNA needs to be reconfigured. Rather than continue to focus its attention upon invention, innovation, and enterprise, it should be reconciling the human state and contributing humility, compassion, empathy and beauty. To transcend the norm, and to leave the world a better place than we found it.

Design is no longer about the lifestyle, but the lifecycle. Everything that is man made is designed, so we cannot blame nature for overreacting or the current design aware generation for poor quality. We must orientate our endeavours towards understanding ambiguity and contradiction, embracing diversity over uniformity and identifying inclusiveness, over exclusiveness.
Do you agree?
What do you think about the article?

Design From Around The Web