In this month's Deconstruction, Design Milk goes behind the scenes with angela adams, a Portland, Maine based company run by designers Angela Adams and Sherwood Hamill. The wife-and-husband duo design contemporary rugs and furniture that are crafted by hand using the traditional techniques of skilled makers, like the Astral Gardens rug collection and the Moby Coffee Table. Now, Angela Adams herself is virtually taking us through her design process of the Arenal rug, a design from the Inner Nature collection that launched at the end of 2017. 
The natural world provides endless inspiration for life and design. I've always loved to translate those inspirations into patterns, paintings and sculptural projects using the influences I gather from travels near and far. The inspirations can be subtle and sensorial, or bold and powerful. I have an obsession with volcanoes and the minerals and crystals that form deep in caves and down in the Earth's core, and I drew on that as I began conceptualizing the design for the Arenal.
One of my favorite destinations is Costa Rica. The coast is rich with beautiful ocean swells, playful monkeys, vibrant birds and lush colors. Up in the Northwestern mountains of Costa Rica, the beautiful conically shaped Arenal volcano looms over the landscape, appearing and disappearing from view as the light and clouds transform from dawn to dusk. It towers over the horizon, always majestic and awe-inspiring, reminding us with each glance of the power of mother nature.
Arenal is an active volcano—a fiery presence rising high into the sky, in striking contrast to the dense, lush rainforests that surround it. Its sheer beauty and seismic existence inspired this design, and I worked to translate its fierce power and mineral energy into sketches that captured its essence.
I have endless sketches of minerals, crystals and the other-worldly formations that grow deep underground, and the Arenal volcano became another fascination to build upon.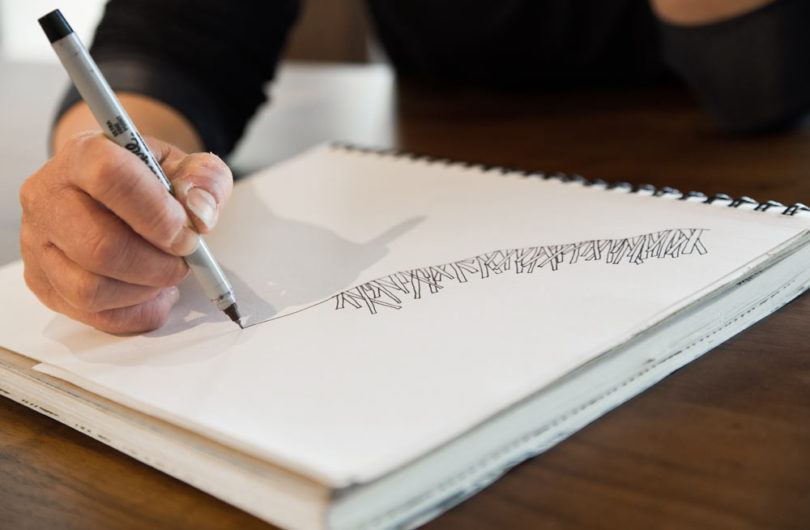 As I set out to design a rug inspired by Arenal, I first explored an explosive design that would evoke the heat and power of an erupting volcano.
After many drawings and paintings, I came back to the purity of black and white and explored shapes and patterns that would evoke the majestic beauty of Arenal. I wanted the design to look like a drawing that might be found in an old Jules Verne novel, or an old textbook about the natural sciences.
At last I landed on my final design. Next was selecting the right shades of black and cream. I sampled a variety of creams and grays and ordered small samples to be made by our rug makers in India. I wanted the central cream color to be soft and plush like deep velvet.
The goal for the crystals that line the border was to have the intricate shapes appear to flow down and onto the floor. To achieve this texture, a tight loop pile with cut crystals would give the design dimension and refined texture.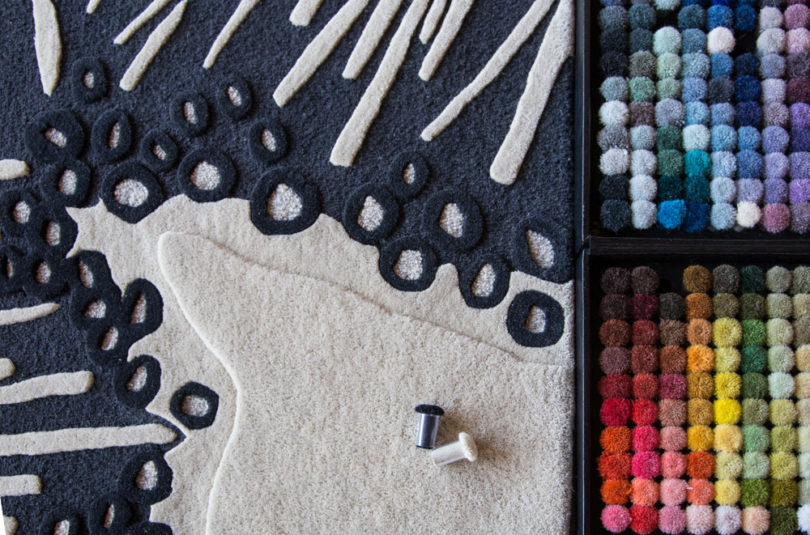 After selecting a variety of shades of blacks and creams, we ordered samples from our rug makers in India and patiently waited several months for them to arrive.
Once they came in, we knew immediately which colors and textures worked best and we ordered the full size rug—9×12'—and again patiently waited for its arrival.
At last, the first finished Arenal rug arrived at our studios in Portland, Maine and it became part of my Inner Nature Collection of 2017, bringing the powerful beauty of a Costa Rican volcano with it and reminding us that Mother Nature is a never-ending source of inspiration and imagination.
Photos courtesy of angela adams.