The GRAPY Lounge Chair Ups the Comfort Level of Outdoor Relaxation
The GRAPY Lounge Chair Ups the Comfort Level of Outdoor Relaxation
1/14 Photos
2/14 Photos
3/14 Photos
4/14 Photos
5/14 Photos
6/14 Photos
7/14 Photos
8/14 Photos
9/14 Photos
10/14 Photos
11/14 Photos
12/14 Photos
13/14 Photos
14/14 Photos
GAN has adapted its incredibly comfortable lounge chair, GRAPY, for the outdoors! Making its debut five years ago, GRAPY is a unique yet ergonomic piece of furniture with an iconically soft seat. Designed by Kensaku Oshiro for the brand, the lounge chair fits into the GAN Outdoor category with new outdoor fabrics. Two fresh geometric textiles are ready to take on your local weather in the form of GRAPY Outdoor's removable covers. Both are available in three colors: blue, yellow, and orange.
The first textile, Marquetry, is part of Sunbrella's Bahia collection. An elegant jacquard with art deco accents, it's not only versatile in aesthetic but resistant to water and stains. The second textile is the Meltemi Texture fabric from the WaterProof in&out series by Jover Decó. Waterproof and breathable, it covers GRAPY with Vichy squares and Mediterranean nuance.
But no matter the textile you choose for your outdoor lounge chairs, GRAPY's silhouette stands out for both its generous proportions and versatility. The three volumes that construct the lounge chair are joined together by reinforced seams, as well as to the padding that's a mixture of polystyrene and chopped foam rubber. Warmer weather can't get here soon enough.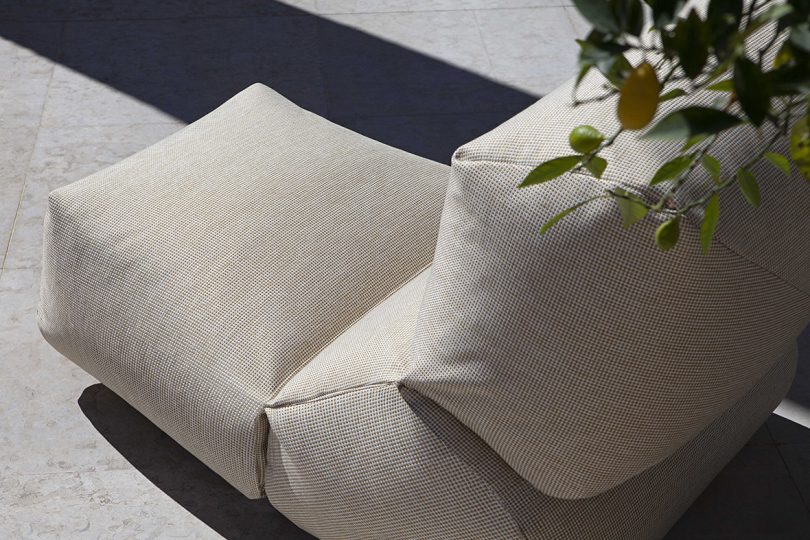 To learn more about Grapy Outdoor, visit gan-rugs.com.