The Hervet Manufacturier Bellame Speaker Captures a Daft 70s Vibe
The Hervet Manufacturier Bellame Speaker Captures a Daft 70s Vibe
1/7 Photos
2/7 Photos
3/7 Photos
4/7 Photos
5/7 Photos
6/7 Photos
7/7 Photos
There was a time when you couldn't walk into any space – club, restaurant, bar, shop, party – without the ubiquity of the Daft Punk musical catalog ever present. The musical duo's imprint wasn't just melodic, but an entire retro-futuristic aesthetic… a whole damn vibe, if you may. Cousins Cédric and Nicolas Hervet have continued to build upon that vibe, founding spatio-temporal hi-fi boutique brand Hervet Manufacturier with the elder of the two, Cedric, helping keep the Daft Punk party going as the duo's Artistic Director.
Hervet Manufacturier's latest Bellame Speaker system plays tribute to that musical duo and the vintage recording studios from the 70s and 80s they inhabit in the form of a handcrafted, limited edition audio system bridging "the gap between fine woodworking and high-fidelity sound."
The Bellame speakers shares the design DNA of pedestal floor speaker designs that once proliferated home and studios throughout the 1970s and early 1980s, most notably the Eero Saarinen designed Bose 901s. These current day speakers are built around a sizable enclosure with left/right satellites tasked for mid-high frequencies and a dual bass all enclosed within a solid Santos rosewood cabinetry, each stationed upon brushed stainless steel stands and reinforcement parts with full-grain leather-covered baffles.
Within this enclosure, all the necessary electronics are integrated to power the dual bass enclosure and the left/right satellites responsible for mid-high frequencies, featuring 8 line inputs and an MM phono input for turntable integration. There's also a 24-bit/192 kHz DAC with 5 inputs, including USB-A and USB-B. Note, you will need to invest in an optional dongle for Bluetooth connectivity, which seems one glaring omission from an otherwise comprehensive system for plug and play use (but perhaps wholly in spirit with the 70s-80s reference).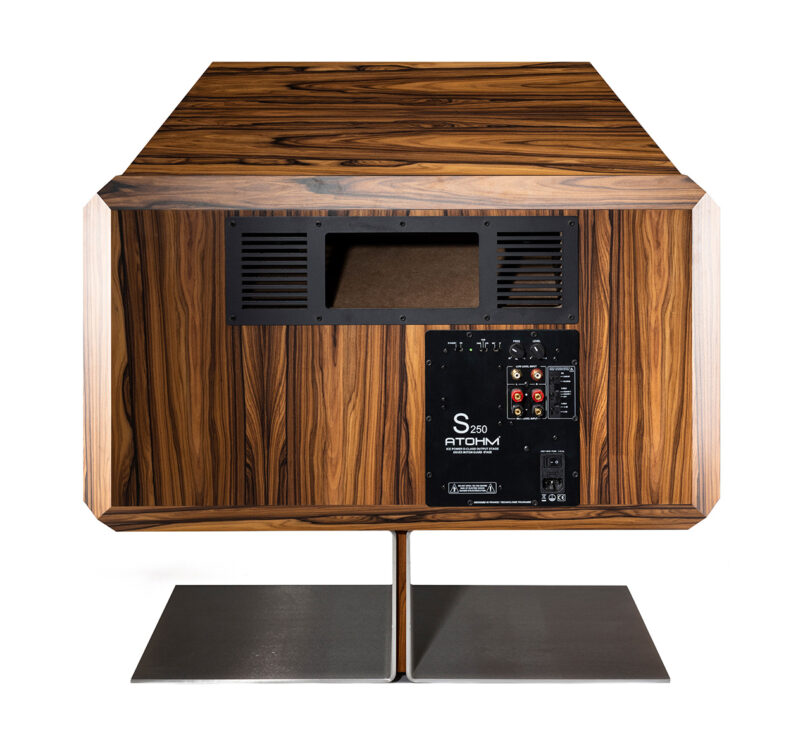 The sum of components within the Bellame delivers a power output rated for 2×75 W (satellites) and 220 W for the bass emanating center receiver console unit, plenty to fill a large living room, and then some.
If you ever see one of these Bellame Speakers in the wild around the world, consider yourself fortunate. There will only be 100 of these made by Hervet Manufacturier for a princely sum of $20,990, a handcrafted audio experience warranting the request, "one more time."