Well, hello there. Our kitchen renovation has been complete now for about a month. We installed some new track lighting and added dimmers, so now all that's left is for us to start cooking! And that's exactly what we've been trying to do. Trying being the key word here, as neither one of us is all that talented when it comes to the kitchen. I can boil a mean pasta, but that's about it. I told Electrolux that no appliance was going to help me become a better cook, but I'm eating my words now — literally.
Many of you had asked me at the beginning of this project to tell you more about our appliances, so here you go! Our kitchen is equipped with Professional Series Electrolux ICON® appliances, and I've just been completely schooled on them all, so I feel like I can adequately talk about their features and my experience with them.
First of all, I was very impressed with their ease of use. I'm such a dummy when it comes to new technology and it takes some teaching to help me understand what's going on, especially when there are no knobs or dials! About two weeks after the appliances were installed, we hosted Thanksgiving dinner at our house. It was the first big meal that we cooked here, and you can bet we used every single appliance in that kitchen to the max. Since I had just had a baby, my mom came over to help out and we cooked, heated, reheated, warmed, simmered and baked without even opening up a manual. These appliances, specifically the Wave-Touch™ Controls, are so intuitive that no one needed to even question how they worked from the get-go. So my first impression was a pretty good one.
Fast forward to now. We use all of the appliances every day (wine fridge excluded – what do you think I'm a lush or something?!) and we have yet to consult a manual. However, I wanted to get the scoop on just how amazing these appliances actually are. I mean — don't lie — you know y'all want to be as amazing as Kelly Ripa, too. So I invited some Electrolux specialists to my home to give me the deets.
Here's what we had installed:
– 30″ Induction Cooktop, Designer Series
– 30″ Microwave Combination Oven, Professional Series
– Under-Counter Wine Cooler, Professional Series
– Built-in Dishwasher, Professional Series
– Counter-Depth Refrigerator, Professional Series
I've had both gas and electric cooktops before and I have to admit that I was one of those gas stove snobs who thinks that cooking with gas is somehow better because of the heat control, but after using the induction cooktop every day, I've found that I don't miss gas at all. I have good control over temperature and the heat responds immediately.
And we totally boiled ice cubes in under 45 seconds. Through layers of paper (don't try this at home!)

(pay no attention to the very dirty pot)
I also like the safety features it has; you have to hit "Power" and then select a burner, and then set the temperature, so it's a three-step process that no baby or cat would be able to do, but if you're still paranoid you can lock it, too. The only thing I could ask for is that it could somehow be flush with my countertop instead of having the frame — seamless integration…
Every single person that sees our dishwasher is amazed that it has an interior light. So, at night, you can actually see where you're putting your dishes. You wouldn't have thought this feature would be such a big deal but let me tell you that I would miss it if it were gone.
And it's quiet, which (besides clean dishes) is all we really need from a dishwasher. Everything else is just icing on the cake, like the Smart Soil Sensor™ automatic dirt sensors, the eco water-saving setting and the cute little chopstick holders!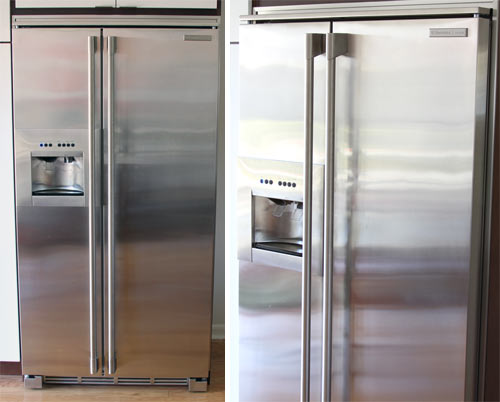 Our fridge is counter-depth, so I expected that it would feel tiny but actually it's a pretty good size for us. The crispers are gigantic; they're "lettuce-high and celery-long!" I can't buy enough fruits and veggies to fill them and I think we have a whole drawer that's just empty. The one thing I think I'd change is to add a tiny bit more freezer space, but I couldn't do without my ice-maker, so I think I can live without. And no, you can't see inside my fridge. What do you think this is, MTV Cribs?
The wine fridge is one of those nice-to-have items; certainly not necessary but a luxury that we're grateful to have, especially as lovers of white wine. We're still learning about wine, and our collection is slowly growing. The interior wood slats come unfinished so that you can stain them to match your cabinetry. Clever.
And, finally, the pièce de résistance – the microwave and wall oven. This is one unit that just slides right into a standard wall oven cabinet. It is definitely my favorite part of the kitchen. Since we had a wall oven in the same place before, it was a no-brainer that we'd replace it, but I hated having the microwave take up tons of counter space, so adding it to the wall was the perfect way to free up extra space. Since we added an entire wall of cabinetry, we certainly wouldn't miss the space.
I'm pretty obsessed with this appliance combo, mainly because it does a lot for me — and quickly. Believe it or not, it actually makes me a better cook (shh… don't tell anyone!). I love that the microwave is also convection – it's almost as great as having two ovens, except one is also a microwave!
The oven has some pretty nifty features. For one, it can save your favorites just like your car radio. Just program what you want it to do and hold the favorite button. You can also set something in stages. For example, if you have a turkey and you want it to cook at a high temperature for a few hours, then reduce the temperature for one hour and then keep it warm in the oven for 20 minutes, you can program all of that in and you don't need to continue to check on it or set the time for each stage. The racks pop out super easy so you can clean them, too.
And for those of you who love dried fruit, beef jerky and sun-dried tomatoes it can even dehydrate. Bread makers, you'll be excited to learn there's a bread proof button, too! I won't lie and say I will ever use these features, but I suppose you never know… The one thing I would change is to make the touchscreen part fingerprint-proof; I clean it quite often.
I think my most favorite feature has to be the meat probe. Cook a perfect meatloaf, chicken or pot roast every time with the built in thermometer that senses the meat's temperature and knows when it's done. Brilliant!
The coolest feature the microwave has, and one that I use a lot, is the sensor. I didn't even notice until the Electrolux representative pointed it out, but there's a handy cheat sheet on the interior that helps you correctly choose what you need. For example, with one button you can melt chocolate, cook a baked potato(!) or cook bacon. I recently melted butter perfectly when I used to make it explode all over the inside.
So far, I've made soup, meatloaf, pasta, chicken, tacos, heated up tons of leftovers, and hosted a few dinners, too. I haven't made any desserts yet, but I'll keep you posted on my progress as I learn to use all the features and (hopefully) become a better cook.
See the entire kitchen project from the start here.
Special thanks to the following kitchen partners for donating product to the House Milk Kitchen Project: Electrolux ICON® \\\ Caesarstone \\\ Kohler \\\ modwalls \\\ Sherwin-Williams. Read more about our partners and the products we chose on our Kitchen Renovation Partners page.