Deciding to start a kitchen renovation while being 9 months pregnant isn't for everyone. But if you're crazy like me, then you might think it sounds like a fun challenge. Luckily, I have an amazing support team of people around me who have lent a hand to help make my dream kitchen a reality, including a very handy and supportive husband, an amazing interior designer and close friend Jamie Adjemian, and a great group of partners.
But before I get into all the details, let me give you a tour of the kitchen before we took a hammer to it.
Our kitchen is a bit of a hybrid between contemporary and 1950s-60s style. There's no cohesion because certain things were added and others kept — essentially, it was a work in progress. However, we decided that instead of build on the existing mish-mash of styles, that we would simply start from scratch.
Because the original wall of cabinets was removed to create an eat-in kitchen (originally, the kitchen was a galley style with a small pass-through to what was called the "family room"), this left little to no storage or cabinet space and left the refrigerator kind of floating out in space. The oversized island was custom made by the previous owner to try to create additional cabinet and counter space, but it's a bit too large for the space and hard to maneuver around, especially with groceries or a laundry basket. Plus, there are two completely empty walls on either side of the eating area that are just begging for cabinetry. We'll still have an island, but it's going to be a bit smaller with storage on one side and seating on the other.
Believe it or not, that wine cooler was once a washer/dryer unit. So space age! Apparently it wasn't all that good…
This wall can accommodate tons of storage! And hopefully a pantry and wine bar. As you can see, we've already marked off a few of our ideas for cabinets with blue tape.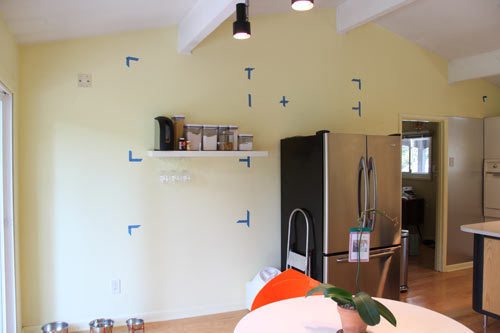 This wall is so sad. We tested our paint color out on it, and now it looks even more pathetic. Mr. Design Milk needs somewhere to do work, so we think this wall will be the perfect spot for a desk.
One of the struggles I had with gutting this kitchen was removing some of the original features of the house that were so charming. For example, the stainless steel single surface countertop with molded sink and built-in burners. The space-age feel of this original feature made me feel like back in the day, this house was like The Jetsons!
The metal cabinets were such a cool feature, too but they were noisy and kind of dingy after 50 years of use, so it was time for them to go. Same goes for the two ovens. Having two ovens is useful for entertaining but we're going to sacrifice replacing them both for a high-tech wall oven and extra storage space. Both of the ovens worked very well, as did the stovetop, but the temperatures were hard to control, so things burned very quickly. It was almost impossible to bake anything.
Another feature that I absolutely loved and hated to part with was the RCA Melody Maker intercom and radio system. This thing must have been from the 1940s (it had glowing tubes inside!). I searched and searched for details about the model but couldn't find any information about it. The clock and radio still worked, although we could only tune into Rush Limbaugh (no thanks) and the clock was noisier than it was useful. Unfortunately, the music and intercom system no longer worked and I talked to a few electricians who told me to either remove it or update it. We decided to keep the intercom speakers that are in the other rooms of the house, though, as memorial to what was probably a very high-tech system back in the day.
Over the course of this series, we'll share the challenges of this remodel, some fun progress posts as new things arrive and get installed, and finish up with a final "after" tour. In the next few installments, I'll show you some serious demo, our insane timeline and the SketchUp design plans.
Special thanks to the following kitchen partners for donating product to the House Milk Kitchen Project: Electrolux ICON® \\\ Caesarstone \\\ Kohler \\\ modwalls \\\ Sherwin-Williams. Read more about our partners and the products we chose on our Kitchen Renovation Partners page.