Demo day happened to be the day that I was 38 weeks pregnant.
OK, before you all freak out, I'm just posing in this photo. As much as I wanted to help, I wasn't much help at all. I actually spent most of the day with my feet up. But, thanks to friends and family, we were able to demo the kitchen and remove all the old drywall in just one day.
Buh-bye ugly yellow countertop!
Sayonara stainless steel counter and metal cabinets! Woah, check out that flowery vinyl tile backsplash – groovy, baby!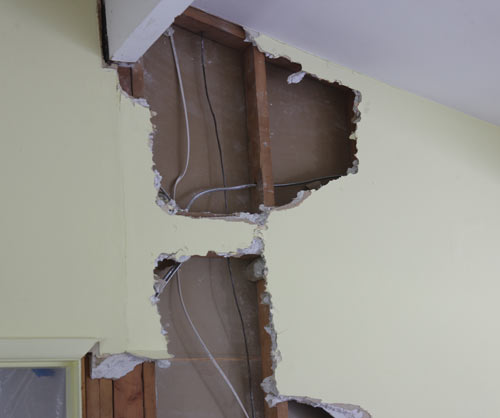 And so it begins…
It wasn't pretty. We discovered old wood paneling, and we even found a few dead mice – yuck! And, of course, what demo job would be complete with a few bloody fingers? Luckily, we didn't find anything too scary that would set us back. Well, there was one minor frustration…
The old cabinets were bumped out from the wall a few inches, and since they'd been there since the house was built, the hardwood flooring was placed around them instead of underneath them. When we removed the cabinets we discovered that our cabinets will be set back far enough where you could see concrete. There was also a terrible half-moon shaped cabinet where we won't have any cabinets at all! Ugh!
We had some extra floor boards, but certainly not enough to fix this issue. And unfortunately, we can't take it from elsewhere because the floor is glued down.
Luckily, the type of flooring installed by my aunt about 6 or 7 years ago is a fairly standard sized engineered red oak that you can get at most hardwood floor retailers. So, in the middle of everything, I had to run out and order more flooring – an unexpected hiccup and expense. I ordered 100 square feet (just in case), and we're back in business.
Now that we have the most labor-intensive part over with, the fun part can start. A normal kitchen renovation takes months, but we're going to try to squeeze it into a few weeks. What can I say? I watch a lot of HGTV and if they can do it in a few days, I can too!
To say that our timeline is ambitious is probably the understatement of the year. I'm sure contractors and designers reading this will cringe. But not having a kitchen for very long is out of the question, especially with a new baby. Living off of microwaved meals and take-out isn't going to be nutritious or beneficial long-term, and I can only do so many dishes in the bathroom sink.
Here was our original timeline:
September: Select and order cabinets, countertops, backsplash, sink, faucet, appliances, and paint.
10/22: Demo
10/23: Electrical
10/25-27: Drywall
10/27-28: Decorá cabinets arrive! Paint the ceiling and walls…
10/29-30: Cabinet installation
10/31: Caesarstone Countertop template <— WE ARE HERE WITH NO DELAY!
11/7: Caesarstone Countertop installation by Delsea Marble and Granite & sink/faucet install
11/10: Electrolux ICON® Appliance delivery and installation
Mid-late November: modwalls backsplash installation, trim installation, paint trim
December/January: Finishing details (hardware, lighting, art, stools, accessories)
Drywall and electrical complete! We may have cheated and hired professionals. Hey, you can't DIY everything…
Priming and painting: done!
Here are some of our outstanding to-do items:
– Order handles for cabinets (I really like these, these, and these) – anyone have any other suggestions?
– Schedule contractor to fix hardwood floor
– Order new track lighting (2) and install
I can't stress enough how important up-front planning was. We spent at least 2 months planning the design, lining up all our professional help, outlining our goals, ordering product, and confirming everything. Jamie's help was invaluable in the whole process, and my background as a project manager definitely gave me the upper hand. Having an organized and handy husband doesn't hurt, either. Plus, we were really racing against the clock, trying to get as much done before the baby came — so I would recommend having a hard deadline/goal to shoot for. It can be very motivating.
In the next week or so, I'll share our SketchUp design that Jamie created for us. JSYK, it's awesome.
Special thanks to the following kitchen partners for donating product to the House Milk Kitchen Project: Electrolux ICON® \\\ Caesarstone \\\ Kohler \\\ modwalls \\\ Sherwin-Williams. Read more about our partners and the products we chose on our Kitchen Renovation Partners page.