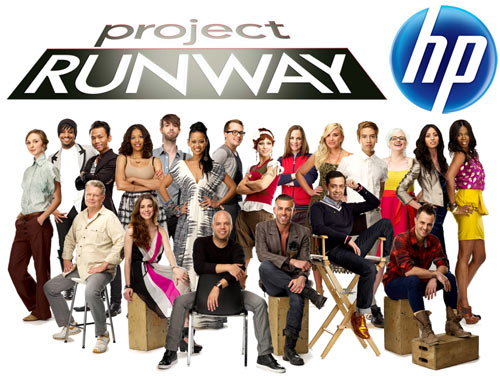 I'm participating in a fun challenge from HP where I'm recreating some of the challenges from Project Runway Season 9 using an HP TouchSmart 610 PC. Last week was the first challenge – read it here. This week the designers had to create an outfit using a few hundred dollars worth of materials that they purchased in a pet supply store. Here's what I came up with:
At the pet store I would have bought two large dog beds and 16 canvas leashes. I decided to make a cream-colored dress out of the dog beds and applique flowers out of the canvas leashes. The leashes are dyed in blue-green hues that go from dark to light as they cascade down the dress. Two more leashes go up around the neck on an angle, fasten together and drape down the back.
I'm getting used to the HP TouchSmart's touchscreen. At first, it took some practice, but now it's just fun. I've been browsing the web on it, too – you can scroll around and flip pages like you do on a tablet.
So, now I want to ask you – what would YOU make from pet store supplies? I hope you participate in these challenges along with me – I'd love to see what designs you come up with. Share them in the comments or on our Facebook wall.
Neither HP nor Project Runway are paying me for this post. HP provided me with a TouchSmart 610 PC to play around with for the challenge.