Inspired by an entry in the Guinness Book of World Records for the largest collection of cigarette rolling papers, an artist sets out to find his own path into the book with a record-setting collection of his own.
Studio B.I.B is a Toronto based creative studio operated by Allister Lee that specializes in consultation, branding, and graphic work for premier niche retail operations and apparel brands like MHI, Mishka, Nike, Staple, Stussy and Supreme. To compliment the work practice Studio B.I.B is actively involved in the creation of art exhibitions, collaborative projects, and an intermittently produced array of lifestyle products and printed matter representative of the studio moniker and motto, "Black is Beautiful."
However, Allister's other project is a more personal one: building the most extensive collection of black markers in the world, and drawing each one. To scale.
Allister calls his documentation of this collection the Black Marker B.I.B.L.E. Earlier this year, the collection contained 523 unique black markers, and it's still growing.

(click above image to view larger)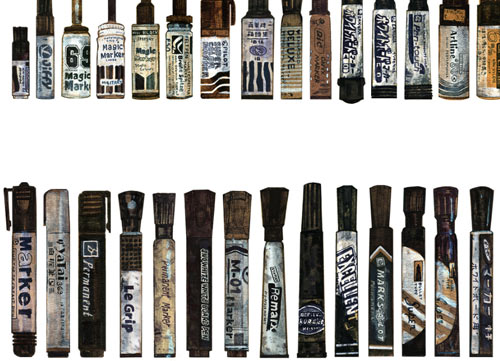 Allister was kind enough to do a short interview for Design Milk:
Why markers and why black?
I started the collection in 2002. London was expensive. Drawing was free. I spent a lot of spare time drawing. I needed a bunch of different black markers to get certain effects in my illustrations and to mark on different surfaces so I stockpiled an assortment in a shoebox. You get to know and appreciate the things you use on a daily basis. And I guess I got to know and appreciate black markers. I only collect black because that's what I think looks right when I put nib to surface.
Are there any specific markers that you hold closest to your heart? Why?
I have a pretty good memory and kind of know where I got every single marker in my collection from.  Most remind me of a time and place, and not the marker I hold close to my heart, but the memory associated with it.
A lot of good memories and experiences from collecting markers while exploring shopfront nooks and crannies in the streets of London, Manchester, Leeds, Birmingham, Paris, Toronto, Vancouver, Montreal, San Francisco, New York, Seattle, Hong Kong and Shanghai over the past near decade.
Pick a marker and I can tell you a story.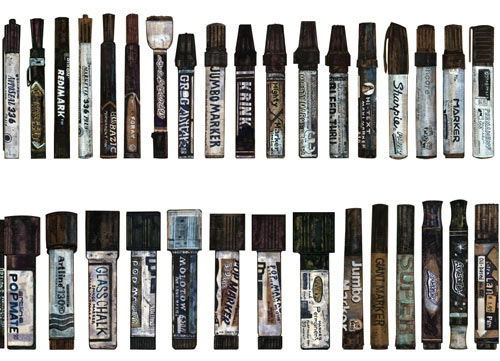 What happens when you're done collecting and drawing them all? Will you move on to colored markers?
My goal is to reach 1000 black markers. I'd like to present a nice exhibition of both the marker drawings and the markers themselves, and be presented with an official Guinness Book World Record at the exhibition opening.
I have no interest in collecting colored markers. Sometimes I have to buy an entire pack of colored markers, just to get the black one. I acquire a lot of colored markers by default. I let them accrue, then I give them to my niece, my small cousins, or donate them to my friends art school for kids.
Do you have any other collections?
I collect Chinatown ephemera gathered while exploring the different Chinatown districts of the world. I seem to have gathered a lot of different "visual inspiration" things over the past decade.
Who are some of your current favorite contemporary artists?
Inka Essenhigh, Raymond Pettibon, Kara Walker, Jose Parla, WK Interact, Lenny Mcgurr.
Studio B.I.B post is available for sale – get yours here.