The Mindcraft Project is a platform for explorative and experimental design from Denmark, organized by Copenhagen Design Agency. After 11 years in Milan, The Mindcraft Project 2020 will this year be presented in a new digital format. The digital exhibition is designed by Copenhagen-based studio Wang & Söderström and will launch today online on mindcraftproject.com.
The digital exhibition features the work of 10 Denmark-based design studios. While a wide range of projects are included, each studio has one common thread: a research and experimentation-driven design process.
The Kurenai Light Object by Ane Lykke is inspired by the Japanese woodworking technique, Kumiko. A three-dimensional grid of color reflects different shades of light based on the angle viewed.
Cathrine Raben Davidsen's TOTEM ceramics merge three cultural inspirations: Mexican terracotta, Danish Bronze Age stoneware, and German Bartmann ceramics. Various treatments have been used on the surfaces, from an oxblood glaze to 24-carat gold to salt firings. The collection was made in collaboration with Royal Copenhagen using historical glazes from its archives.
FOS's A mountain, a flowerpot, a vase, a pitcher and a cup collection plays with scale to bring larger-than-life natural forms, such as a mountain, down to a scale humans can easily interact with.
Jonas Edvard´s MYX Chair is made from mushroom mycelium and hemp fibers. The resulting organic composite is strong, lightweight, and requires no additional energy during production. Due to its natural materials, the chair's lifespan is at the will of nature.
Focus by Kasper Kjeldgaard is a mobile constructed with brass, stainless steel, and wire. Its form creates tension between fragile and strong materials and acts as a sculpture in the home.
The Seam Table by Krøyer-Sætter-Lassen explores the possibilities of 3D printed concrete and how excess concrete from the construction of the Copenhagen Metro can be repurposed. The table features an aluminum tabletop and a concrete base. By intentionally disturbing the 3D printing process, intentional and embraced inaccuracies are created.
Maria Bruun's Dependables storage system is simply inspired by humanity's ritual to store belongings out of sight. The modular system's perforated sides allows us to see what's inside while still being stored away.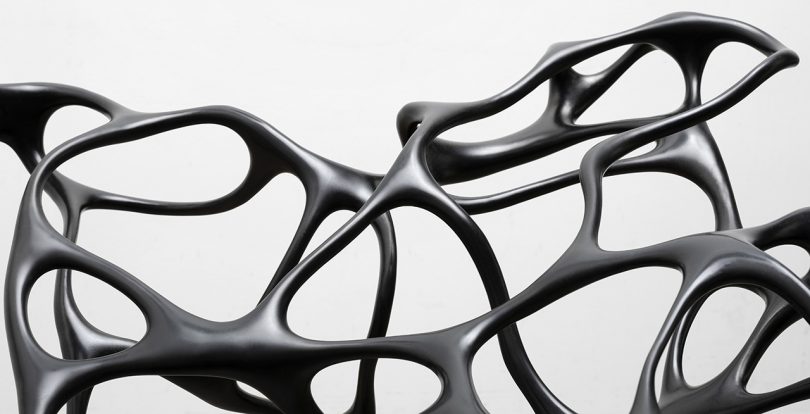 Mathias Bengtsson invented an AI design technique that grows organic forms inspired by cellular growth patterns, which they applied to the Growth Chaise Lounge.
The Arc Collection by Norm Architects is a series of stone furniture that stems from the designer's fascination with staircases, arches, and classical architecture. The collection is made from travertine, one of the most appreciated lime stones, which has been used since the rise of the Roman Empire.
Friction In Between is part of an ongoing project where designer Tanja Kirst explores how the hemp plant can be transformed into durable and sustainable woven textiles. Hemp is resilient and easy to grow, making it an important sustainable material to utilize.
The Mindcraft Project 2020 is available to view online on The Mindcraft Project's website today.