The Modern Magic of the Gradient Trend – Our Top Psychedelic Finds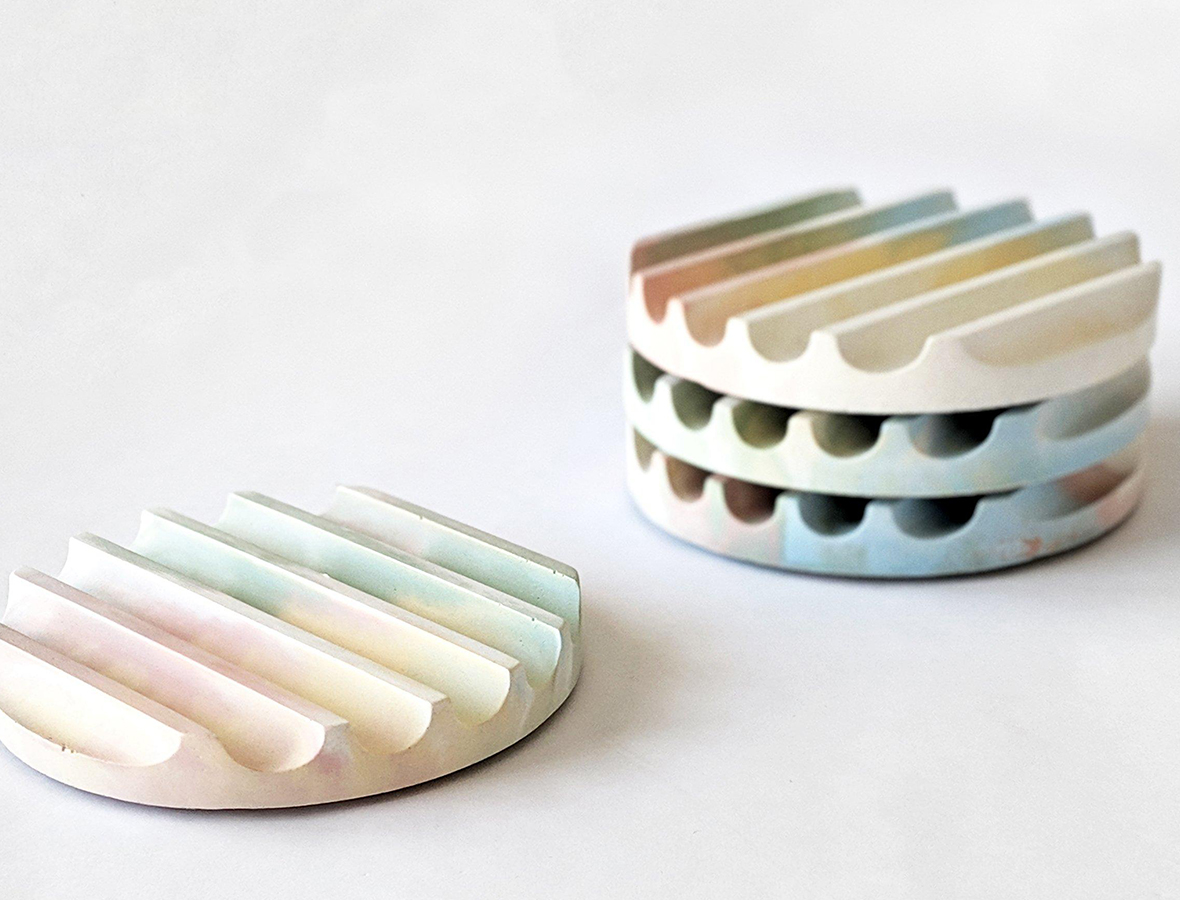 The Modern Magic of the Gradient Trend – Our Top Psychedelic Finds
1/12 Photos
2/12 Photos
3/12 Photos
4/12 Photos
5/12 Photos
6/12 Photos
7/12 Photos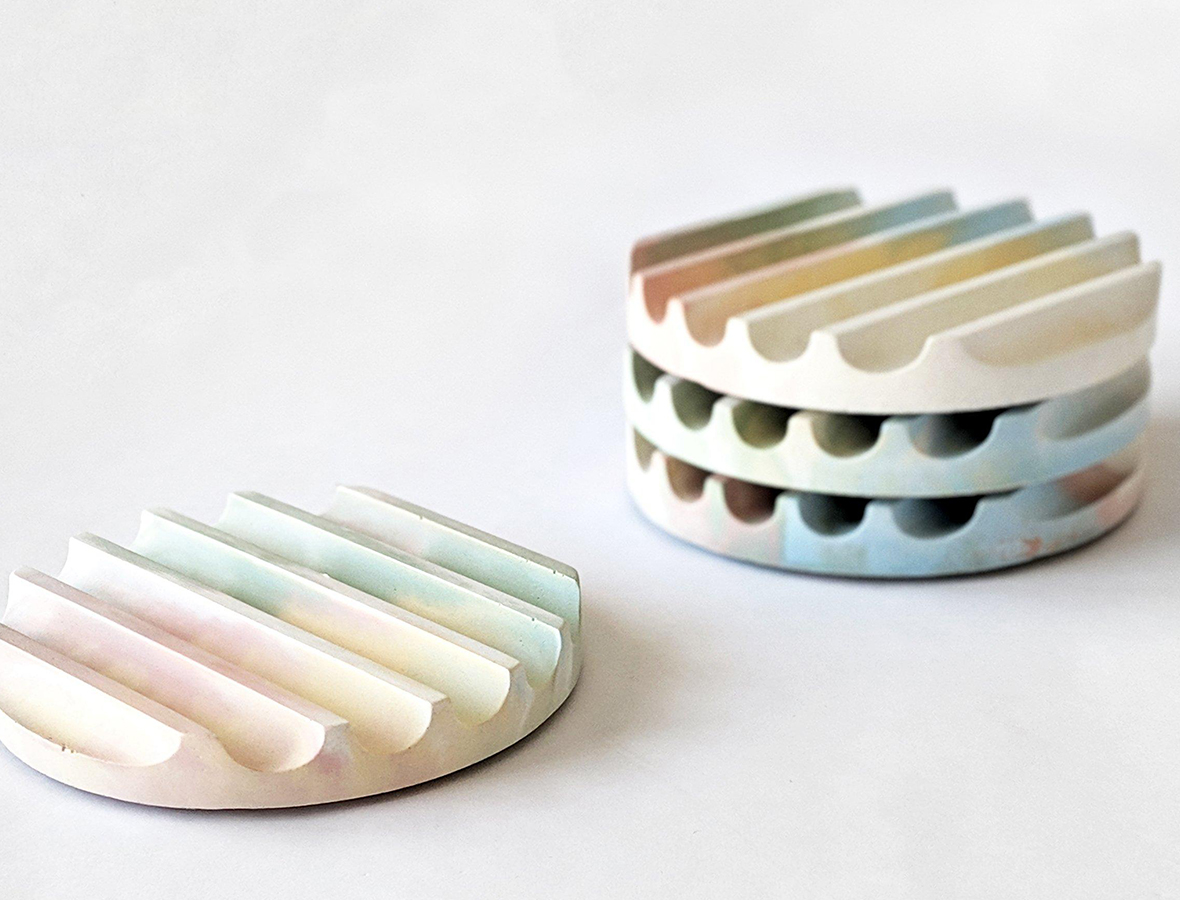 8/12 Photos
9/12 Photos
10/12 Photos
11/12 Photos
12/12 Photos
Fun fact: I'm obsessed with gradients. I love them so much that I regularly have to ask myself if I really love something or if clicking "add to cart" is just a Pavlovian response to a gradient object's mesmerizing microcosm of colors. The design world has gradient fever too – the psychedelic patterns are showing up everywhere from wall art and puzzles to rugs and glassware. Gradient designs have a magical way of adding depth, color, and a retro radiance to interior spaces, so it's no wonder why their rainbow reminiscent hues are irresistible to design lovers everywhere. Interested in experimenting with the groovy design trend for yourself? Read on for our favorite gradient goods. For more modern ombre finds, visit the Design Milk Shop!
Here is the gradient stationery you never knew you needed. Made in Seattle using 100% post-consumer recycled paper, recyclable aluminum wiring, and veggie-based inks, this dotted journal by Studio Snerd is the perfect home for your thoughts, doodles, and daily to-do's. Its label-free, ambidextrous design, and delightful cotton candy hued gradient covers make it a universal favorite.
$16
Shop Now >>
Sky Love Puzzle by SOONNESS
Each stripe of this 1,000-piece puzzle by SOONNESS is its own abstract gradient – making it a hefty and healthy challenge for puzzlers. Our advice? Instead of trying to match shapes, sort the pieces by color and embrace the meditative journey of piecing this beauty together. You'll want to have a frame ready to show off your work once complete!
$39
Shop Now >>
Medium Wine Red and Indigo BICO Glass by SGHR Sugahara
These two-toned glasses by Japanese glassware brand Sugahara bring the gradient look to your kitchen. Handmade by expert artisans, every BICO glass is one-of-a-kind – seamlessly blending deep indigo and wine-red shades that take on a paler appearance once you fill the glass. And just wait until they catch the light and cast colorful shadows on your tabletop.
$68.20
Shop Now >>
Ribbed Incense Holder by Cloud 9 Clay
Handmade and wheel thrown by ceramicist Peyton Flynn in her Philadelphia-based studio, this Ribbed Incense Holder captures a warm, aura-like gradient that you'll love seeing on your coffee table. Even more impressive, Flynn paints her gradients by hand, achieving a stunning and smooth transition between fiery red and orange shades.
$38
Shop Now >>
Gradient 1,000 Piece Puzzle – Purple/Teal by Areaware
Designed by Bryce Wilner for Areaware, this captivating cool-toned puzzle will have you questioning where purple ends and blue begins. The imperceptible blend between this gradient jigsaw's cosmic purple and teal shades makes it a sizable challenge to piece together, but with time, patience, and a can-do attitude, puzzlers will be proud to have mastered this puzzle's range of radiant shades.
$35
Shop Now >>
Jawbreaker Coaster Set by Pretti.Cool
We love the marbled effect on these Jawbreaker Coasters by Pretti.Cool. Made by combining color pigments into concrete, every coaster has its own unique gradient color story to tell. Designer Mike Garman thought of everything – the concrete material has a modern, utilitarian look that won't cling to your drink, and the cork base makes it easy to slide them around your table without scratching.
$32+
Shop Now >>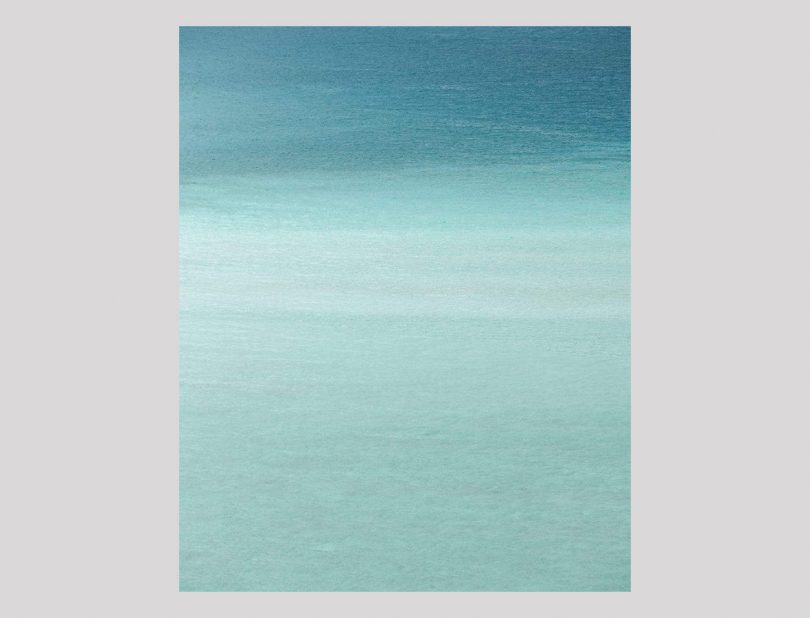 Sea of Cortez Print by Carley Rudd
A photo representation of nature's gradient, Carley Rudd's Sea of Cortez print perfectly marries the soothing effects of staring off at the sea and the captivating calm of gradient design. The natural ombre effect of its serene blue hues and the calming, biophilic effects it has on interior spaces make this print a welcome addition to any room in the house.
$54
Shop Now >>
Circle Gradient Print by Ryan Carl for Evermade
Made in celebration of Earth Hour (the annual worldwide movement that encourages us to ditch non-essential electric lights for 1 hour), Ryan Carl's Circle Gradient has a modern, bold aesthetic that makes a colorful statement on your wall. Loosely defined by a subtle blue to green gradient, the minimal circle focal point gently fades into the piece's cobalt blue background color – creating a sense of visual harmony that's key to gradients' appeal.
$130
Shop Now >>
Dis Moss Rug by Heymat
Inspired by the radiant shades of a forest floor, the gradient design on Heymat's Dis Moss Rug evolves from a deep lush green, rich gold, to a pale yellow. The rug's eye-catching spectrum of colors offers plenty of ways to style it alongside existing decor (for more color tips, click here), and its durable, low maintenance design makes it a joy to live with.
$160+
Shop Now >>
Toast Merino Throw by Studio Variously
For gradient skeptics who prefer to keep their color palettes more subdued, the Toast Merino Throw by Studio Variously features a soft and approachable spectrum of neutral shades. This luxurious throw is handmade by women artisans using plush merino yarn, and hand-dipped in eco-friendly dyes to achieve its subtle gradient effect. We recommend draping this one over a couch or accent chair to let its warm ombre design and fringe detailing do the talking.
$289
Shop Now >>
Pink Ombre Wallpaper by Tempaper
Turn your living space into a pastel dream-scape with this Pink Ombre Wallpaper by Tempaper. We're obsessed with the look of the brush stroked design and the elegance and whimsy it adds to its cloud-like aesthetic. Did we mention Tempaper is totally removable? So you can take this dreamy gradient to your walls without risking your security deposit.
$495
Shop Now >>
Shopping any of our gradient favorites? Share your haul and tag us @designmilk to be reposted on our Instagram!
This post contains affiliate links, so if you make a purchase from an affiliate link, we earn a commission. Thanks for supporting Design Milk!