The Nest All-In-One Toothbrush Brings Innovative Design to Oral Hygiene
The Nest All-In-One Toothbrush Brings Innovative Design to Oral Hygiene
1/22 Photos
2/22 Photos
3/22 Photos
4/22 Photos
5/22 Photos
6/22 Photos
7/22 Photos
8/22 Photos
9/22 Photos
10/22 Photos
11/22 Photos
12/22 Photos
13/22 Photos
14/22 Photos
15/22 Photos
16/22 Photos
17/22 Photos
18/22 Photos
19/22 Photos
20/22 Photos
21/22 Photos
22/22 Photos
Nest Care Inc is bringing a new design to the age-old toothbrush with an all-in-one system called the Nest Brush. Comprising three main parts and available in four colors, the innovative brush design reinvents the toothbrush/toothpaste relationship in a way that's effective, hygienic and easy to use. Nest Brush has already reached its funding goals on Kickstarter and has garnered both a if world design guide award and Red Dot Design Award 2021.
First, there is the toothbrush itself, which self-dispenses toothpaste through internal channels at the push of a button without any electricity or batteries. Hypoallergenic silicone valves prevent the toothpaste from drying out or leaking out, and the soft silicone bristles of the brush provide comfort as you brush. Users can fill and refill the brush with their own toothpaste, which only needs to happen once a month, making this toothbrush easily packable for trips away.
Then there is the sterilization module that contains two UV-C LED lights to sterilize the brush in less than a minute.
Finally, there is the magnetic stand that holds the toothbrush upright while in its UV-C module, keeping the brush sterile and hygienic. A lightweight travel case is also included in the standard kit on Kickstarter, which has already surpassed its funding goal. There's also an Electric Nest Brush for those who prefer electric toothbrushes over manual ones.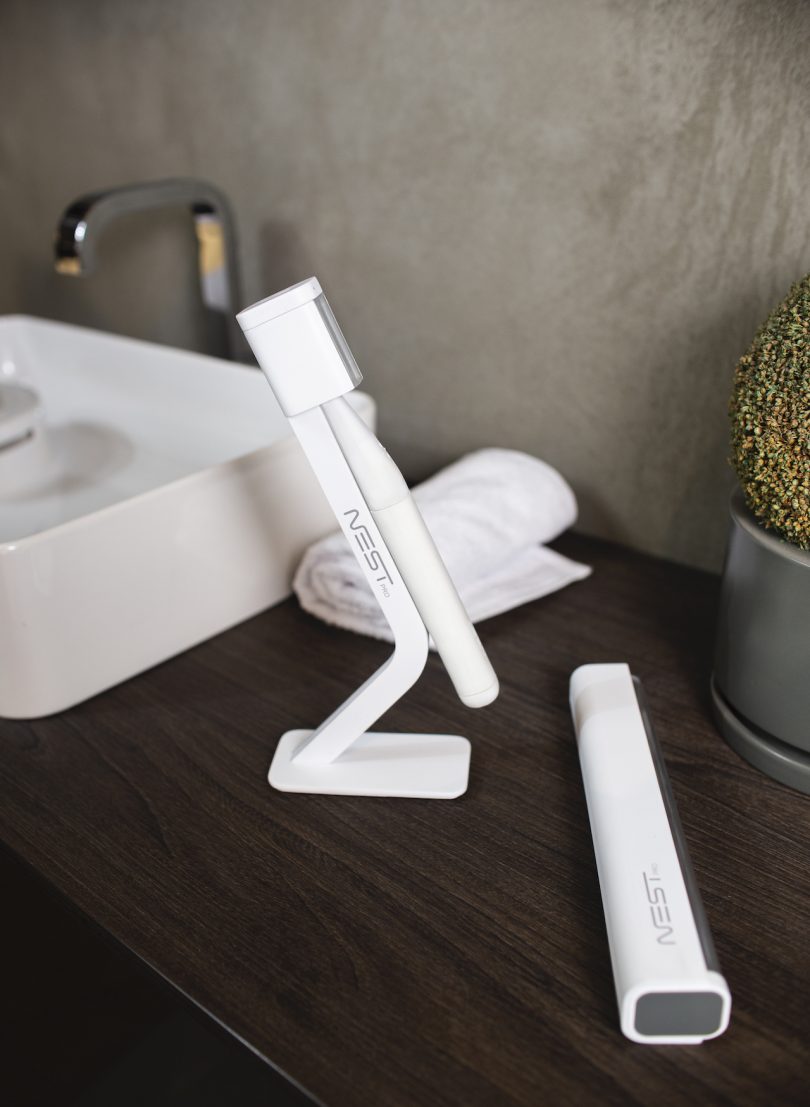 For more information on purchasing the Nest Brush or the Electric Nest Brush, visit their Kickstarter page here.
This post contains affiliate links, so if you make a purchase from an affiliate link, we earn a commission. Thanks for supporting Design Milk!