The New PK4™ Lounge Chair + Upholstered Ant™ Chair Come Home to Fritz Hansen
The following post is brought to you by Fritz Hansen. Our partners are hand-picked by the Design Milk team because they represent the best in design.
The New PK4™ Lounge Chair + Upholstered Ant™ Chair Come Home to Fritz Hansen
1/17 Photos
2/17 Photos
3/17 Photos
4/17 Photos
5/17 Photos
6/17 Photos
7/17 Photos
8/17 Photos
9/17 Photos
10/17 Photos
11/17 Photos
12/17 Photos
13/17 Photos
14/17 Photos
15/17 Photos
16/17 Photos
17/17 Photos
Fritz Hansen is celebrating spring with two exciting additions: an updated version of the Ant™ chair and the PK4™ lounge chair. The Ant chair, designed by Arne Jacobsen in 1952, is receiving its biggest update yet. The introduction of a new front upholstery version in both textile and leather makes the enduring Danish mid-century design even more aesthetically versatile. Poul Kjærholm's PK4 lounge chair, one of his earliest designs, completes the Kjærholm range of easy chairs in stainless steel that Fritz Hansen has been manufacturing in close collaboration with the Kjærholm estate since 1982.
Arne Jacobsen did nothing short of shape the landscape of Danish design and has been influencing architects and designers ever since with his prolific portfolio of work. Bringing his visions to life first through hand-painted watercolor sketches, the pioneer was ahead of his time and uncompromising when it came to his designs. A strong desire to create across disciplines, Jacobsen's creative process focused on strict consideration of detail. Aside from furniture, the designer's legacy includes architectural masterpieces and countless objects – from teapots to lighting to clocks. Jacobsen will always be known for putting Danish mid-century design on the map.
Structural and dignified, Jacobsen's Ant chair was originally designed for the Novo Nordisk canteen. Thanks to ongoing technical innovation, the new upholstery version holds on to the chair's silhouette while adding a soft upgrade, heightened comfort, and further customization options. In recent years, Fritz Hansen has made Ant available in several combinations of shells, colors, and bases, now with the addition of textile allowing for even more design possibilities and interplay of textures.
The Ant's curved single piece seat and back – made from nine layers of pressure molded veneer – was a radical invention in 1952. It led to the Series 7™ (1955), Grand Prix™ (1957), and Lily™ (1970) chairs that are synonymous with Jacobsen's style that were created in its wake.
"The organic silhouette of the Ant chair is striking. Back when it was designed in 1952, the silhouette needed to be slim in order to shape the veneer into more complex forms, and to accommodate that process Jacobsen designed a shape which instantly became iconic. Curves and organic shapes are integral to Danish design," explains Marie-Louise Høstbo, Creative Design Director, Fritz Hansen. "The light in the Nordics changes throughout the day and throughout the year. These rounded and organic shapes embrace incoming light, and help to create interiors that play with both shadow and light – creating atmospheres with both warmth and depth that are great to spend time in."
"This update is the result of a persistent spirit of experimentation and innovation and a great collaboration between the upholstery and development teams at Fritz Hansen. After many years of trying, we created a method that allows us to elegantly front upholster the Ant chair," said Høstbo. "The contrast between the inner and outer materials creates a beautiful dynamic that highlights the design of the chair, which is so beautiful on its own, but also incredible when grouped in a large space."
Giving further insight into the design, Høstbo said: "On its own, the Ant – and the rest of the veneer chairs designed by Arne Jacobsen – stands as a sculpture. The shape and defined form are emphasized by the light in a space. When placed together around a table or grouped in a large assembly space, the chairs collectively create a pattern: they almost look like waves in the ocean or a flock of birds in the sky."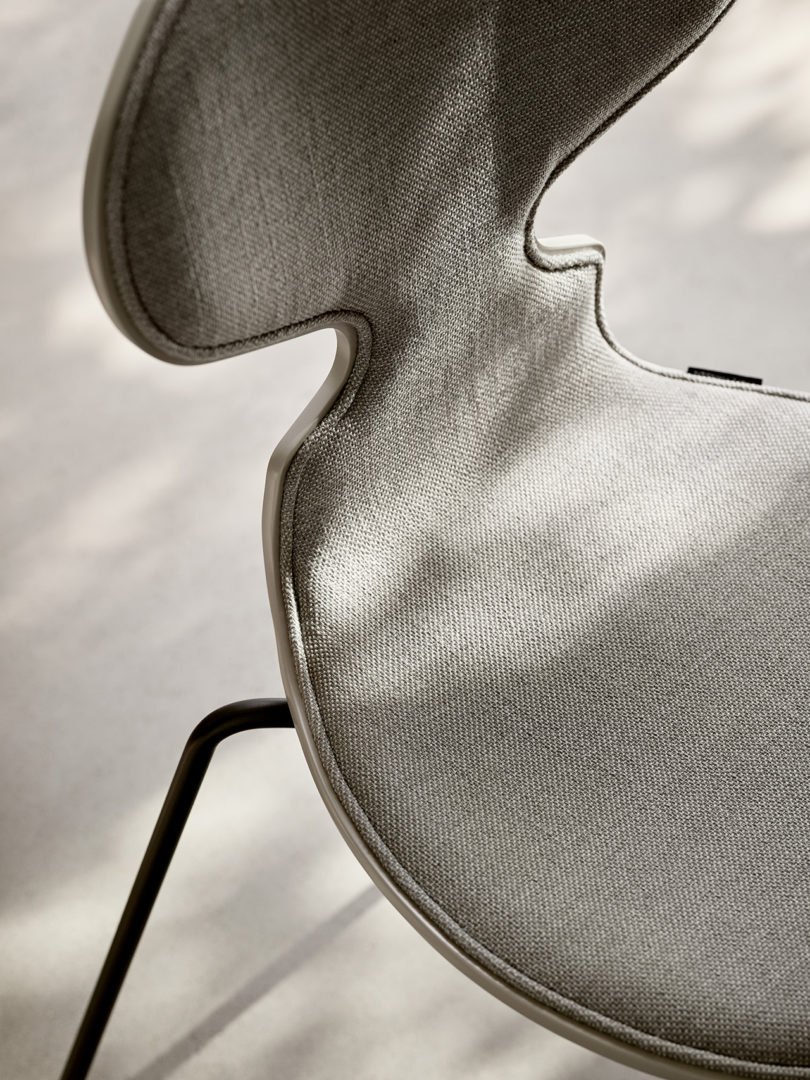 The new version of Ant debuts with a curated selection of 16 colorways within the Fritz Hansen color range curated by Carla Sozanni. Additionally, the upholstery is available in the full spectrum of the brand's textiles and leathers, leaving plenty of room for possibility.
With a deep interest in construction materials – particularly steel – Poul Kjærholm sought to give them the respect he believed they deserved. Wood wasn't the only material that could make beautiful mid-century furniture, he believed. Through his work, Kjærholm came to represent a new wave of Danish modernism, a minimalist expression that valued tradition but was entirely his own. Eventually his designs caught the attention of Søren Hansen, grandson of Fritz Hansen and co-director of the company, who saw potential and invited him to join the brand. It only lasted a year. Kjærholm joined furniture manufacturer Ejvind Kold Christensen, where he remained for the rest of his career. However, two years after his passing, the Kjærholm family entrusted Fritz Hansen with the production and sales of "The Kjærholm Collection." The archive of designs were developed by Kjærholm between 1951 and 1967 and includes the piece that began the relationship – the iconic PK25™ chair.
"The more you research the work of Kjærholm the more you must acknowledge his immense impact on Danish design," says Høstbo. "His respectful approach to tradition, his dedication, and his curiosity continue to impress – and we want to share this with a new generation of design enthusiasts by keeping the collection relevant."
By adding Poul Kjærholm's PK4 lounge chair to its collection, the third in a series of new Kjærholm releases, Fritz Hansen has rounded out the designer's range of easy chairs in stainless steel. Designed in 1952, shortly after graduating from The School of Arts and Crafts – along with the PK25, the Bowstring chair, and the PK0 – PK4's streamlined silhouette put the spotlight on Kjærholm's ongoing fascination with geometry.
Høstbo shared: "The four chairs express four different directions, but they are interlinked. The PK4 stands out because Kjærholm chose to work with tubular steel, creating a significantly different look to the spring steel used in PK25. The design of the PK4 is lighter and more playful in its visual appearance; meanwhile the halyard is a material used for the PK25 and the Bowstring chair too, so there's a clear thread between the designs."
PK4 is manufactured using seven tubular steel pieces that are welded together into a frame, with the back and seat measuring a single length of a halyard, a rope used when sailing a ship. The design makes for a light, expressive lounge chair that captures Kjærholm's skill in translating technically complex ideas into attractive, functional objects. Kjærholm's use of tubular steel also gives the PK4 context in what was happening during the mid-century by nodding to the International Modernism movement that was growing in Central Europe.
The new PK4 features an improved structural integrity and includes a seat cushion to elevate the user's experience. "Halyard is a beautiful material, but we wanted to create the option for the seat to be slightly more comfortable," notes Høstbo. "The slim-profile, circular pillow adds to the graphic appearance of the chair itself and the materials borrow from Kjærholm's tradition of working with canvas and leather. When you add to a historic design it must be done respectfully, and with this loose pillow the chair's profile remains perfectly defined."
The third in a series of new Kjærholm releases, the playful PK4 will be on display in Fritz Hansen showrooms globally beginning at the end March. The lounge chair is available in satin-brushed stainless steel or black powder coated stainless steel, with halyard in either natural or black.
In additional good news, Fritz Hansen is happy to share word of its CEO, Josef Kaiser. With 13 years of experience in the furniture industry, Kaiser brings his leadership skills and drive to the design company, looking to transform the way organizations develop products and processes through design thinking. Formerly Chief Sales Officer at Vitra, Kaiser's move to Fritz Hansen brings together his passion for Danish design and a human-centric approach to business.
Ever-innovating and growing, Fritz Hansen welcomes you to learn more about the Ant chair, PK4 lounge chair, and CEO Josef Kaiser. Visit fritzhansen.com for more.