The Pebble Rubble Series Gets Its Shapes From Forms in Nature
The Pebble Rubble Series Gets Its Shapes From Forms in Nature
1/22 Photos
2/22 Photos
3/22 Photos
4/22 Photos
5/22 Photos
6/22 Photos
7/22 Photos
8/22 Photos
9/22 Photos
10/22 Photos
11/22 Photos
12/22 Photos
13/22 Photos
14/22 Photos
15/22 Photos
16/22 Photos
17/22 Photos
18/22 Photos
19/22 Photos
20/22 Photos
21/22 Photos
22/22 Photos
Inspired by their childhood memories of playing in the forest and discovering the magic of nature, Swedish designers Sofia Lagerkvist and Anna Lindgren of Front Design designed a collection of furniture for Italian brand Moroso that awakens the senses and calls for exploration. The Pebble Rubble series gets it shapes from the forms found in nature, namely the boulders and rocks that have been naturally rounded and polished by the outdoor elements. It's only upon examining these surfaces up close that one realizes their softness and comfort.
Not only is the collection inspired by nature, it was conceived while Lagerkvist and Lindgren were in nature, where they took many forest walks and 3D scanned the rocks they found. With these scans, the designers composed the organic shapes that would make up the Pebble Rubble collection. They also did extensive research into the therapeutic benefits and effects of nature on physical and mental health. In the process, the designers created 16 new textiles produced by Kvadrat by digitally scanning natural surfaces found in nature, like minerals, moss, and a fresh snowfall. Four of these textiles are exclusive for Moroso.
The Pebble Rubble series consists of 15 modules (these create the seats and backrests) and 3 foot stools, an extensive assortment that allows for infinite configurations and combinations. Intended mostly for corporate and hospitality sectors, the collection will create curiosity and wonder wherever it is installed.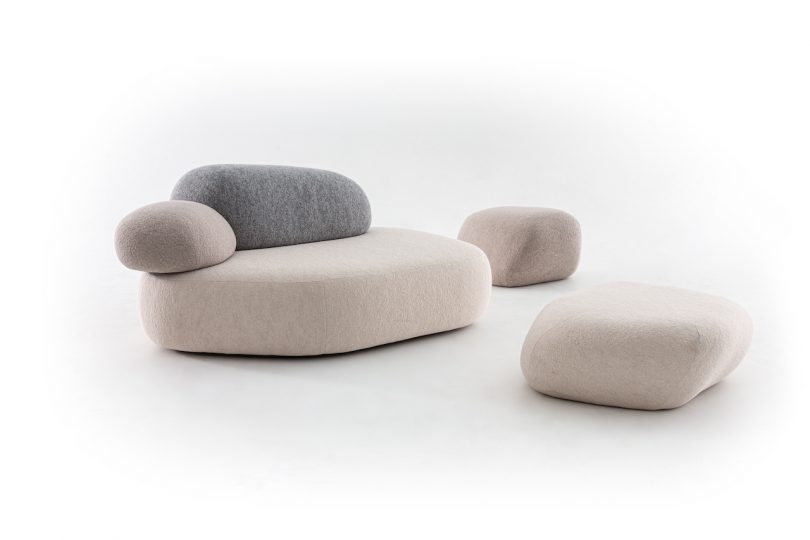 For more information on the Pebble Rubble series, visit moroso.it.
Photos by Alessandro Paderni.