Hosted in Milan's Ventura Lambrate, RCA Paradise challenged students to "contemplate the discovery of something or somewhere more wondrous." The products they presented are all inspired by a "quest for a better future."
One of my favorite pieces was Recording Machine, which splatters paint onto the walls in response to noise – creating a visual representation of sound.
Rafel Oliva, who is studying MA Design Products at the RCA says "The performance space becomes a container of all the expressions, desires, words and sounds from the audience that participate – freezing the sound on the wall and collapsing all the inputs into one space and time."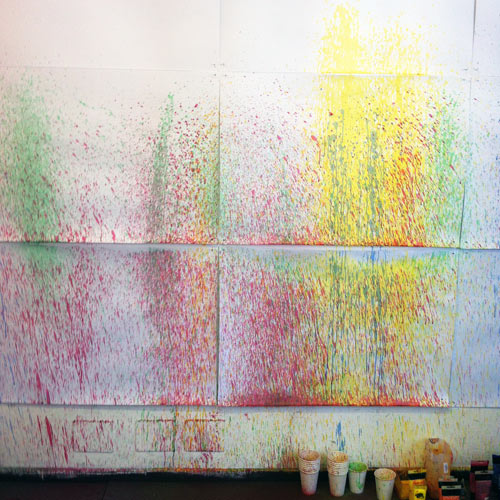 I liked the translation from one sense to another; from audio to visual, and I think it's really interested to see how much of the meaning comes through – even in the abstract.
I was also really fun to see something the audience could really get involved with and become a part of the design process.
And on a completely subjective level – I  loved the colors and the resulting "painting."
Our trip to Milan was supported in part by Airbnb.com.