The Rogers House in London is on sale for the first time since it was built in 1968, available through the UK's modern real estate agency, The Modern House. Since then, it's been lovingly owned and maintained by the Rogers family.
Located on a garden plot opposite Wimbledon Common, it feels secluded and private but is only a short walk from the center of the village. Yes, tennis fans, it's that Wimbledon!
Designed by the architects Richard and Su Rogers, it's an important and celebrated house of the 20th century that any modern design lover would be ecstatic to visit, let alone live in. Its design is rooted in the classic Modern style established by Mies van der Rohe and Richard Neutra, but its construction is vastly different. It's one of very few British houses that could stand in comparison with the finest twentieth-century houses in America and mainland Europe.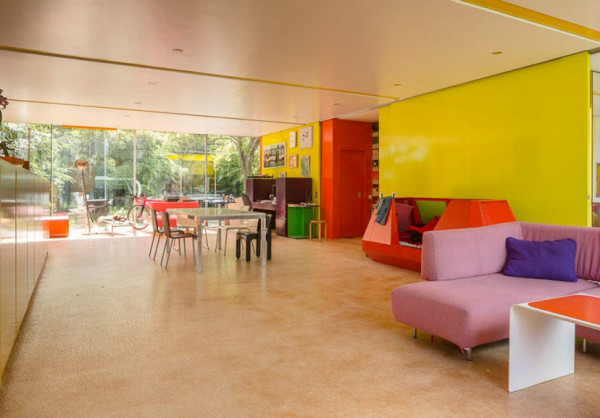 It's gorgeous clean lines don't prepare you for the eye-popping excitement and colors within. If someone tells you that modern design is cold, then show them this house!