As you follow the fabulous smell of bubblegum lingering in the air, you begin to daze off and dream of your favorite childhood moment. You then magically arrive beneath the enchanting circus tent in the Melissa Lounge at Sao Paulo Fashion Week. The amazing design by Rosenbaum was inspired by the circus and is complete with rings, bleachers, and displays hanging from the ceiling that represents trapezes, and the Melissa Collection are the modern trapeze artists.
The colorful, futuristic and sculptural qualities of the Melissa Collection were able to dazzle against this uncomplicated interior. The palette of the interior stays very minimal using a combination of white, gray, and silver, except for the logo MELISSA ET CIRCUS, which is made of acrylic and purple lines in the neon colors of the campaign. The trapeze swing, twist, and twirl at different levels as the guests immerse themselves in the performance of the collection.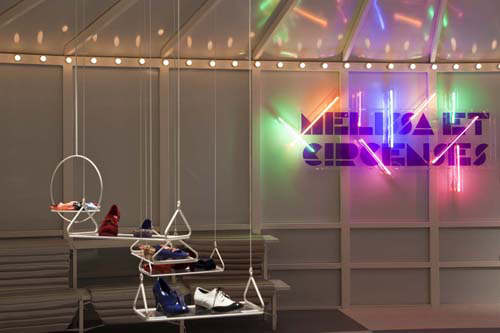 "Living in a frantic world of creativity Melissa knows how it feels to be different and always looks for alternative ways of expressing new ideas." Melissa has collaborated with the most amazing design talent from all around the world to create some of the most innovative designs out there. Melissa believes in inspiration through innovation. This idea is showcased during the exhibition at Sao Paulo Fashion Week, which shows the work of past and current collaborators, such as Vivienne Westwood, Jean Paul Gaultier, and Alexandre Herchcovitch. Here's a closer look at some of these fabulous designs:
"Melissa Joy" by Alexandre Herchcovitch. Herchcovitch designs a masculine classic in plastic shimmery colors (2008).
"Eclectic" by Fernando and Humberto Campana
The Campana Brothers transform their Corallo Chair into an art that can be taken to the streets. "Fashion and design are art. They enclose different cultural manifestations and tell the story of our time. They are simply everything." –Fernando and Humberto Campana
"Lady Dragon" by Vivienne Westwood. Vivienne Westwood and Melissa placed their bets high with the release of the Lady Dragon (Summer 2009).

Design From Around The Web