In the Thinness Collection, 06D Atelier does what they do: explore and modify the relationships between objects, environments, and humans by experimenting with materials, shapes, and functionality. In this particular case, the Italian design duo of Mauro Fragiotta and Francesca Adami is using lightness to challenge gravity using a thin sheet of 2 or 3 mm thick stainless steel.
The Thinness Collection of sculptural furniture is recognized with straight, stretched lines visualized in celestial planes that creating the journey into lightness and the pieces were named accordingly. The collection includes the Centaurus sculptural chair, Pegasus coffee table, Perseus side table, and Orion pendant lamp. All pieces are available in two versions: the Matt Edition with a sprayed finish in customizable colors, which for the first time will be presented in a black version named Materia Obscura, and the Gold Edition in a limited edition of 33 signed and silkscreened pieces featuring a handmade finish with a gold galvanized treatment.
06D Atelier's interpretation of the Centaur is the Centaurus chair, a leggy and angular chair with a welcoming profile made of 2 mm thick steel plates that have been laser cut, bent, shaped, welded, and ground with a soft satin finish.
The Perseus coffee table and Pegasus side table are made from 3 mm thick steel plates for strength and stability and coated with a hand-applied satin finish. The pair are perfectly complementary thanks to their geometric shapes.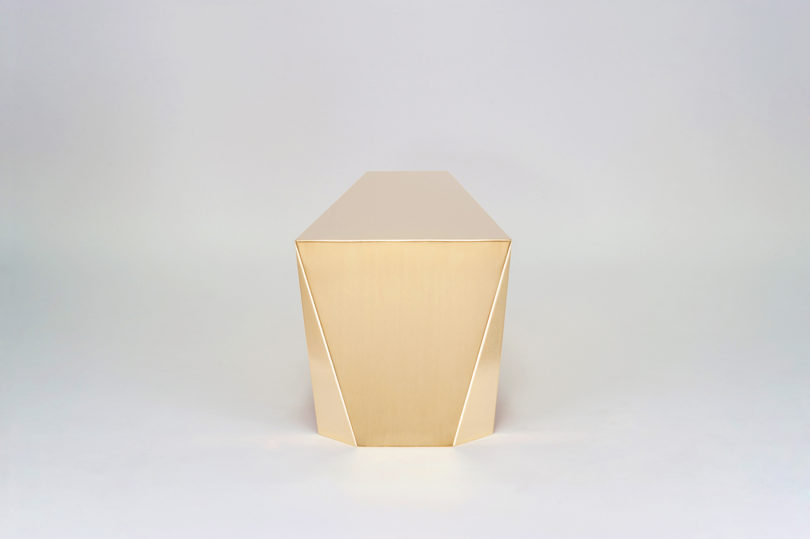 Orion is a sculptural lamp that can't help but make itself known through bold, multifaceted geometry. LED strips softly diffuse light and play off of the 2 mm thick steel plates, which are laser cut, bent and shaped, welded and milled, then hand finished.