We feature a ton of student work here on Design Milk from submissions to discoveries while scouting the trade show floor. We're huge supporters of what students are doing — they're the future of design. However, we have little opportunity to go behind the scenes and see how these young designers are learning and what tools they're using in the design education process. So I decided to start a series of posts where we go inside of some of the top US design schools and find out more about the tools that make design happen.

Pratt Institute, an educational leader in art, design, and architecture, offers both undergraduate and graduate degrees in industrial design. Pratt's industrial designers seek to be innovative and impactful in creating beautiful forms and products that express their vision as reflected by the people and culture of the times.

The Juliana Curran Terian Design Center on Pratt's Brooklyn campus. Photo by Josh Gerritsen Photographer.
The department is located in the Juliana Curran Terian Design Center, a collaborative setting that fosters interdisciplinary research and learning infinitives among the industrial design, interior design, communications design, and fashion design disciplines on Pratt's Brooklyn campus. Pratt's undergraduate and graduate industrial design programs are among the highest ranked in the country according to 2012 rankings by DesignIntelligence.
The industrial design department is chaired by Steve Diskin and is part of Pratt Institute's School of Art and Design, which is led by Dean Concetta M. Stewart, Ph.D. We spoke with Jonathan Thayer, Associate Professor in Pratt's Department of Industrial Design about how students are learning, the technology and tools being used to teach design, and how he sees the future of design education.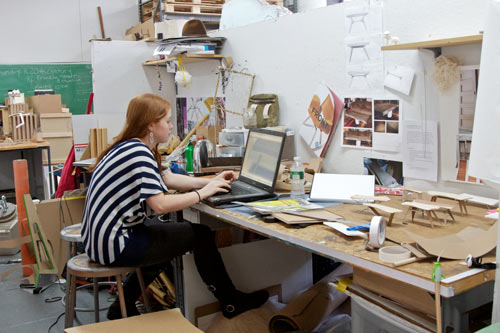 An undergraduate student using CAD technology in the Student Studio adjacent to the department's furniture shop. The student's furniture models are on display on the table nearby. Photo by Chris Richard, Pratt Institute Department of Industrial Design.
What are the top "tools of the trade" every student must have/use while in school? What machines, software, and tools do the students utilize most to create their work?
Firstly, I would say that students and designers need access to basic traditional shop equipment in order to quickly develop early ideas. There is no substitute for the experience of holding a physical object in one's hand. The subtleties of ergonomics and form are often difficult to resolve with initial digital "authoring."
With a good hand model a designer can much more rapidly develop a detailed functional CAD model which brings me to the second fundamental tool: good CAD software. There are many products to choose from and there are very few designers who limit themselves to just a single CAD tool. At Pratt we have seen that some tools are better suited to rapid development of organic shapes while other tools are better for the engineering aspects of designs such as wall thicknesses and fastening features. These tools often contain analytical tools that can help develop parting lines and demonstrate manufacturing issues such a negative draft or molding problems. At Pratt we use Solidworks, Maya, and Rhino as well as a number of other "Niche" CAD tools as needed.
Lastly, once a digital model is developed, we can take advantage of digital prototyping technologies like CNC, laser cutting, and Rapid Prototyping.

Technical Coordinator and Visiting Assistant Professor John Medley working with students on their chair design prototype in the department's fabrication shop. The student in the foreground is working with a metal-bending tool to create the base of a chair. Photo by Bob Handelman.
What has been the most exciting technological advance that you've seen in this field since beginning your career? Has it been a challenge to keep up with the quickly-changing times?
Hands down, Rapid Prototyping. The range of material and process options today is staggering. From water-clear resins to rubber-like elastomers to structural metals, there have never been more choices. In many cases we can produce fully functional prototypes that will sustain extreme temperatures and structural loads analogous to their mass-produced targets. Not only are these processes nearly hands free, they are extremely accurate. The ability to perfectly duplicate complex forms in quantity without molds or large tooling investments is a huge evolution in the developmental process. For example, the ability to prototype stacking chairs at 1/8 scale and actually evaluate how they fit together in numbers would be very difficult to do using traditional techniques.
The advent of Rapid Prototyping also frees the designer from the emotional attachment often associated with manual model making. It is easy to get "attached" to hand made models and sometimes that makes it hard to respond to a critique that suggests a 15% increase in scale. The designer says, "Wait a minute, I'm going to need to carve the entire thing again, maybe the scale is fine!" Digital prototyping helps to break those attachments, and allows the designer to push further.

A student lab monitor assists a student on a laser-cutting job in the Rapid Prototyping Lab in Pratt's Department of Industrial Design. The machine is a Universal Laser Cutter that can cut materials ranging from chipboard, acrylic, textiles, plywood, balsa wood, and different types of dense paper. The machine can also do engraving applications on many of the aforementioned materials, in addition to anodized aluminum, glass, and some types of stone. Photo by Chris Richard, Pratt Institute Department of Industrial Design.
What do you see as being the next big technological advance in this industry, and how might it change how students learn and design, as well as how you teach design?
Social Media has the power to change the way products are conceived, developed, funded, and deployed. It's happening now. Companies like Quirky and Kickstarter offer the ability to test and identify potential markets with minimal investment. In some cases web participants can "invest" in ideas by critiquing them and offering suggestions for improvement. When an idea has a certain amount of traction, potential customers can invest actual dollars by placing preproduction orders at a discounted price. This really turns the traditional scheme of marketing, manufacturing, and distribution on its head.
The borderless nature of the Internet also means that small run ideas can be sold and distributed globally. Products can be customized for very small markets and still be financially viable. This changes the way we interpret markets and users. As materials and processes improve daily, Rapid Prototyping is racing toward Rapid Manufacturing. This presents us with a world where there are no molds, no tooling. No problems of undercuts or tricky forms. So this freedom evolves what we accept as given in product design engineering. It's possible to imagine a business model where we simply buy a license for a product online and walk over to the combination microwave/home prototyper and the product is waiting for us. When you finish using it, you simply recycle the material and download another product.
The broader implication for students is that while we still need to be competent in the traditional forms of product manufacturing, marketing and distribution, these new methodologies will give rise to shorter development times, more regional, niche, and specialty products, and greater potential for exploration of form and materials.

Students working on a chair design prototype of bent wood forms and steel tubing in the department's fabrication shop. Photo by Bob Handelman.

A student at work on a vertical mill in the fabrication shop in the Department of Industrial Design. The vertical mills allow students to cut grooves in materials and mill forms out of wood, plastic, and aluminum. Photo by Chris Richard, Pratt Institute Department of Industrial Design.
What is an exciting project your students are working on right now or recently completed?
Graduate students recently re-conceived a series of electronic devices as mechanical products (think mandoline slicer vs. electric food processor). I find it both ironic and encouraging that we might apply cutting-edge technology to selectively "eliminate" technology. I looked at a non-motorized lawnmower recently and it was really quite impressive: not hard to push at all; cartridge bearings and non-stick blades like a frying pan; no emissions; and probably a 50-year lifecycle with minimal maintenance.
Conversely, I saw an adjustable wrench in the hardware store with a button, a battery, and a motor just so we wouldn't need to turn the thumbscrew! In our increasingly service-based and often sedentary lives, we are faced with a choice of whether to manifest objects just because we can. It's nice to think with all the "Yes" around, we can still say "No."

Students working on an assignment in the transportation design studio. Photo by Bob Handelman.

Two students working on slumping plastic over a ceramic form in the Plastic Studio adjacent to the fabrication shop. The oven in the background allows students to heat plastic so it is malleable. Photo by Chris Richard, Pratt Institute Department of Industrial Design.
Photos courtesy of Pratt Institute.
With support from our partner, Intel, we're exploring the tools that unleash the creativity and productivity of today's designers. Intel is committed to improving our lives with fast, light, wireless (and stylish!) technology. Their goal is to develop tools that help us create amazing things. And we think that's amazing.