I feel an instant connection with Savannah College of Art and Design, or SCAD, because were were both born in the same year: 1978. It was a good year. In just 33 short years, SCAD has been able to build a global network of design students, teachers and enthusiasts all pursuing the passion of design education.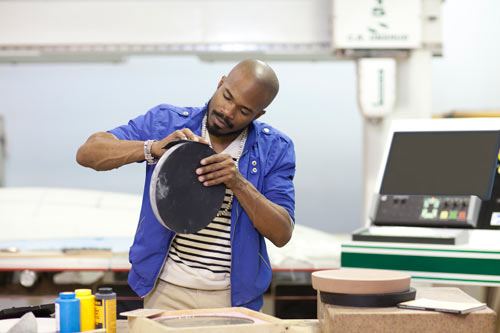 Hey, look! It's Bradley Bowers!
I wanted to get a ground-level view of SCAD's mission to be a student-centered institution focused on providing an exceptional education and preparing students for professional careers in design. We've featured quite a bit of SCAD student work here on Design Milk, so I am pretty sure they are doing a stellar job, but I asked Tom Gattis, former Chair of Furniture Design at SCAD, to tell me more about how his students learn and create.
What are the top three "Tools of the Trade" every student must have/use/learn?
1) The ability to communicate ideas through sketching
2) The ability to communicate with digital tools through some form of CAD language
3) The ability to analyze research and find true opportunities for new and innovative products.
What machines, software, and tools do the students most utilize to create their work?
Students heavily utilize SolidWorks and Rhino to complete their projects and assignments. Our two laser cutters get put into service nearly 24/7. Students are utilizing them to make models and mock-ups as well as cut components for prototypes. In my classes I nearly always insist on full-scale mock-ups usually made of corrugated cardboard or similar materials. These mock-ups help our students make critical decisions about human factors, scale, proportions and overall form and aesthetics. Cardboard is cheap and fast especially when we employ the laser cutter to make parts for assembly.
Besides rapid prototyping, what has been the most exciting technological advance that you've seen in this field since beginning your career? Has it been a challenge to keep up with the quickly-changing times?
Digital fabrication in generally has enhanced the development process tremendously. This includes, of course, rapid prototyping but also includes technology, like water-jet cutting and laser cutting. These processes are replacing the previously tedious and time consuming handwork – particularly during the development process. The technology is also replacing many components of the final prototype development, making them more accurate and time-efficient. The biggest advantage of this technology is indeed the time it saves students. Time that would normally be spent in the shop developing a model or mock-up can now be spent in development analyzing and creating the best possible solution.
What do you see as being the next big technological advance in this industry (is it a material, a method, a piece of software or hardware) and how might it change how students learn and design, as well as how you teach design?
The industry is always evolving – new materials, new technology and new approaches. Students often are pushing the edges of the envelope with technology and equipment and experimenting with new materials. These are however just tools in the toolbox. As a Professor, my job is to guide their process, help them develop critical thinking skills and teach them to be rapid problem solvers.
The industry has also evolved in terms of the demands of the graduate. 10 or 15 years ago it was understood that a student would graduate, go to work for a design house or manufacturer and spend the first 6 months to a year in an apprentice role – enhancing what they learned in school. Today employers repeatedly tell me that they can no longer afford this model. Graduates must hit the ground running. They must have the ability to immediately contribute and an employer must be comfortable putting them in front of a client on day one. This has changed tremendously what we as professors must deliver. The content we have in our programs now is 10 times what was delivered to me as an undergraduate. The demands of the current industry climate require that design programs continuously update their curriculum and cram more into a four year degree than ever before. This is the most challenging aspect of design education at the moment. How do we ensure that our students are truly prepared for their careers.
What is an exciting project your students are working on right now or recently completed?
My 3rd year furniture design studio is currently developing pet furniture. This is a $52 billion industry desperate for some innovation. Students were challenged with providing better care for the American pet by developing modern furnishings that fit with both the owner's current lifestyle and the modern home interior. Students are working on everything from improved kitty litter boxes, to updated fish tanks, to luxury dog beds – each designed to pamper the pet and indulge the owner. They have just completed the design development process and this week will begin constructing their prototypes. We would love to show off the results.