FARM completed The Tree sculpture, which recently won the Singapore President Design Award 2010 for Design of the Year. The National Museum of Singapore approached FARM to "create something delightful" for the Night Festival in 2009. Inspired by the Banyan Tree, the modern sculpture also featured LED lights bringing the "tree" to life in the evening.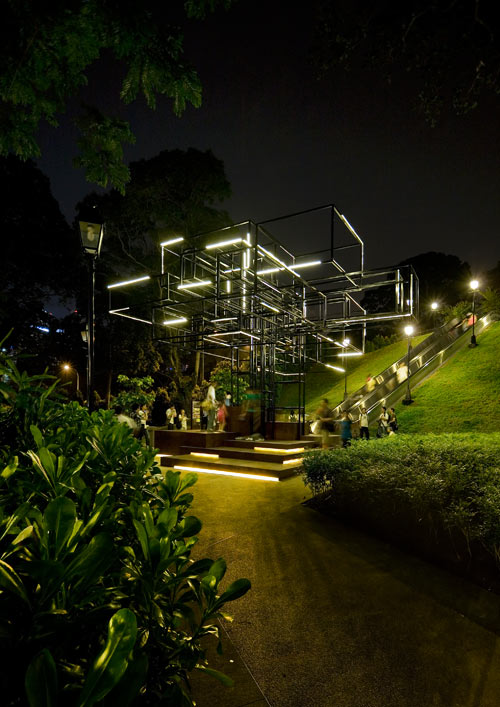 From the architects:
When we think about the National Museum of Singapore, association with another grand old dame comes to mind. It is the huge old Banyan tree that sits majestically on the museum's front lawn, seemingly holding fort to a place full of histories, stories and magic. We wanted to allude to all these richness and symbolism through a contemporary reinterpretation of the Banyan Tree. Just like in the past, as it is now, we hope this 'Tree' will inspire people to slow down, take a breather and simply bask and partake in this recreation of nature's wonder.

The Tree was constructed from a series of varying sizes of rectangles and squares frames, rising from the ground and interlocking in a 3-dimensional space, forming a semblance of the Banyan Tree. At night, with the addition of LED light tubes, the Tree glows magically like a huge lantern. As one stands under it and looks up, these lines of light would coalesce into imagined constellations of faraway stars.

The Tree reacts to sound as well. A series of microphones are hidden within the structure of the Tree. The microphones will be programmed to pick up sounds made by the public. The louder the sounds made, the brighter the tree becomes! The Tree will gently pulsate with light, ever reacting to the soundscape produced around it.