A young couple with a child enlisted the help of ater.architects to design their new home in Kyiv, Ukraine. The VOV apartment spans two floors with the public spaces being on the lower level and the private areas on the top, making a suitable separation between 'day' and 'night' zones. The couple, who are fond of fashion, music, and art, now reside in a 100-square-meter apartment that plays off their modern interests.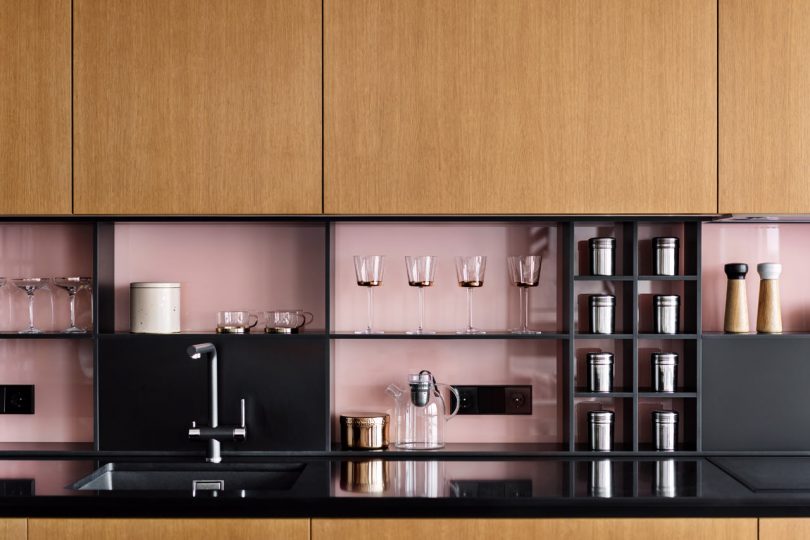 The interior design is a combination of neutral hues covering the larger surfaces, like the floors, walls, and ceiling, and bold colors used for the accents. The main living space features wood floors, concrete ceilings and panels, and a black and pink kitchen, which are paired with cobalt blue, purple, and pink details to liven the space up.
The couple's massive vinyl collection received a custom black shelf flanked with wood on the sides.
The dining area extends off the kitchen island, which accommodates several bar stools, offering large surfaces to prep food and entertain.
A white electric piano joins a vibrant purple chair from Moustache and a piece of art by Françoise Oz.
The playful first floor bathroom boasts a warm pink color on the concrete block wall and floor, along with a resin monkey lamp from Seletti.
A purple shelf utilizes space under the hot-rolled metal stairs that pivot their way to the second floor.
The bedrooms were kept small as the family activities take place downstairs.
The master bathroom is set off by a green and pink metal cabinet and concrete panels with a gradient pink. To top it off, they installed a neon lightening bolt that adds violet mood lighting to the bathroom.
Photos by Alexey Yanchenkov.