London-based Paul+O Architects designed The Wilderness house as a new build in the countryside of Suffolk. Due to strict laws regarding new houses built in the country, they must follow a policy that the plans "are truly outstanding in terms of Architecture and landscape design and would significantly enhance its immediate setting and wider surroundings." Needless to say, this house is a rare example of new English architecture in the country.
The house's features are quite modern but the material choices, such as oak and flint stone, are traditional and local to the area. The first floor has many floor to ceiling windows and sliding doors that give the house an indoor/outdoor feel. The indoor color palette is relatively muted to ensure that the outdoor views are showcased along with the strategically placed furnishings. All of the glass frames the 50 acres of wilderness that the property sits on, making this modern house in the country truly unique.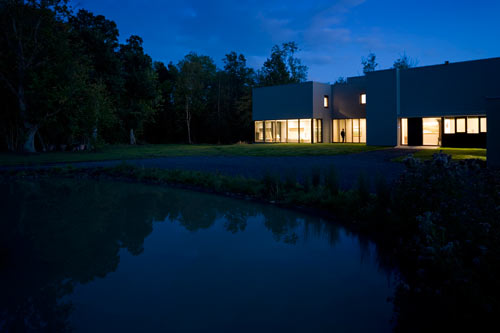 Photos by Fernando Guerra, FG + SG | Architectural Photography.