The Woodlark is the newest hotel to join Provenance Hotels and it's located in downtown Portland, Oregon, offering 150 rooms within a sophisticated and warm environment. The project involved the renovation of two buildings – the Cornelius Hotel and the Woodlark Building – that were combined to create a modern "House of Welcome" for the city.
Behind the hotel's design is Smith Hanes, who was the lead interior designer for the public spaces, Oculus Inc. in charge of the executive rooms and hallways, and R&A Architecture & Design, Inc., the lead interior designer of the room interiors and hallways, as well as the executive architect who successfully joined the two historic properties and restored them under the strict rules to keep their registry status.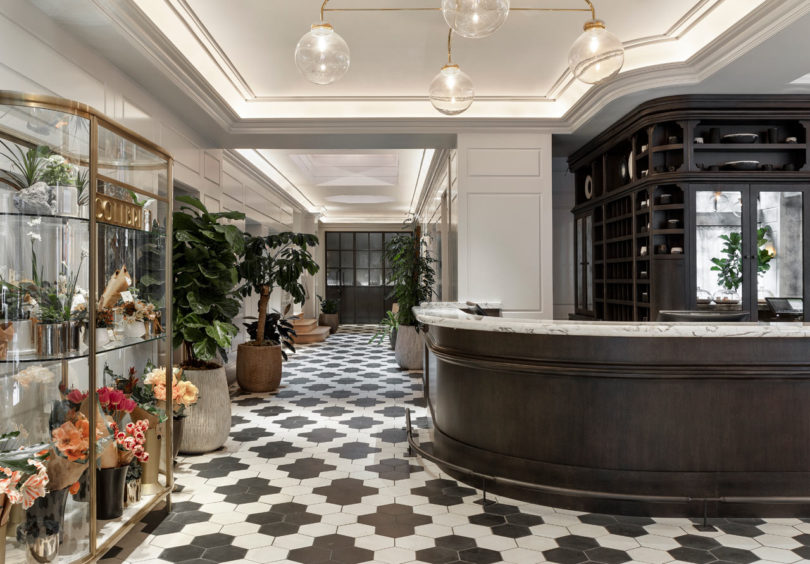 Black and white tiles welcome guests into the lobby, which is flooded with daylight thanks to floor-to-ceiling windows and skylights in the elevator landing. The wood and marble check-in desk extends down into a coffee bar.
The new interiors have an eclectic feel that perfectly reflects the Pacific Northwest surroundings. The common spaces feel open and welcoming while still maintaining a luxe, high-end aesthetic.
The guest rooms merge cozy textiles, woods, leathers, black lacquer, brass, and greenery resulting in spaces that feel like they're in a home rather than a hotel.
There are 11 different types of rooms, from two doubles to a two-story loft suite with a spiral staircase.