If you think design work is still happening traditionally then you haven't met Devon Grace Interiors. Founded by Devon and Michael Wegman, Chicago based DGI is not only producing some of today's most beautiful work it is doing it with technology in ways interiors firms never imagined. And…it clearly appears to be working. DGI has already grown by 600% this year and their iPads are still ringing. Yes, we said iPads.
A major reason for their success is they are producing their work on the go, in the air and on site with mobile platforms. Utilizing iPads, Morpholio Board and a flood of other intelligent software the team is able to design, present and document their work not only faster and smarter but also, from anywhere. And perhaps more importantly, they are using their formula to connect with clients in exciting new ways.
The struggles for young designers are obvious. They all have way too much to do, budgets are tight, clients want to be more involved in the process and in order to deliver, you have to maintain a constant flood of design inspiration that doesn't just happen at your desk.
"One of the biggest challenges in this industry is channeling a client's thoughts and desires into something concrete," says Devon. "Using mobile tools along with our experience, we've come up with a system that allows us to extract a client's aesthetic without them even realizing it." Enter the iPad Pro, Morpholio Board and a host of software that allow Devon, Michael and their team use to work their magic anywhere—even on the go.
"Software has finally made our lives smarter and easier," says Devon. "A great example of this is using Morpholio Board. We design a space using moodboards and Board automatically converts them into furniture lists and cut sheets for us, which would have taken a week at the office."
For DGI, design is primary but their unique combination of Michael's tech background from his days at Autodesk, fused with Devon's international firm experience allows them to stand out from the rest. They believe that a space should not only be "an expression of the individual" but that it can and should be created in a more efficient and collaborative way.
Two recently completed Chicago projects illustrate that their formula is working and churning out superb results. In the West Loop townhouse, Devon combined touches of the neighborhood's modern industrial aesthetic with a few family antiques to personalize the feel. Elegant pale grey silk wallpaper in the dining room, contrasts with deeper, moodier grey suede wallpaper in the bedroom. The overall flow is designed for entertaining but details like the handsome, sculptural accent chairs in green velvet make it cozy for everyday living.
Their Logan Square condo also strives to entertain with a programmable disco ball and saucy neon artwork. Yet, Devon is still able to maintain a level of modern sophistication with black and ombré painted walls and custom shelving that elevates the living room, into a gallery for growing collections. The dome lighting in the dining room fills the space like modern sculpture but also gives off a warm glow. The effect is as sleek as your favorite hotel and yet, feels like home!
"The days of relying solely on samples and showroom visits have come to an end," says Michael, "Clients are demanding a more comprehensive visual platform that validates a cohesive design before signing off. I think the industry is at an inflection point where if you're not using smart technology to collaborate with your clients, you won't be able to compete with those who are."
Devon and Michael hope to continue to grow their business by letting the right tools do the hard work for them, while they focus on design, details and clients. Having these tools with them on the go allows them to build strong relationships with their clients whether sourcing exotic new materials or sifting through heirloom antiques. As Michael says best, "With our highly refined design process, we're able to help our clients create something truly unique without requiring them to take any 'leaps of faith'. They get to see everything in full context before making any decisions."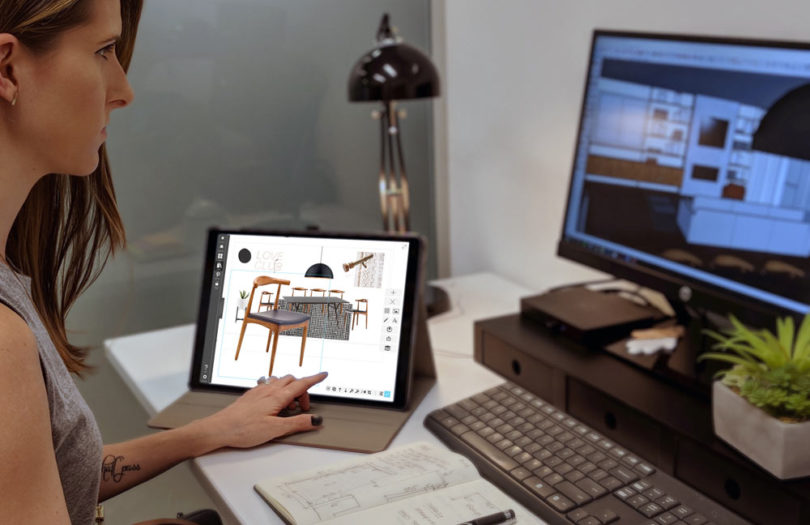 Photos by Dustin Halleck.
Thanks to the team at Morpholio for pulling this post together! For more info, visit morpholioapps.com.

Design From Around The Web