Chicago-based design studio TJOKEEFE creates simple architecturally-inspired furniture. They remind me a little bit of Faktura.
Chair IV
Chair IV is the skeleton of a chair reconstructed as a geometric puzzle. Comprised of solid wood and finished in two sheens of paint, it is a versatile dining chair able to coalesce with a variety of environments. It is available in all black, all red, all yellow, and in white with black detail.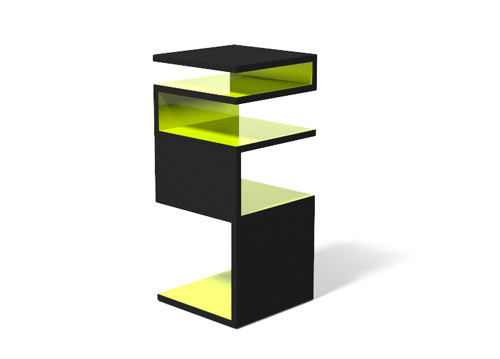 Helic Table
Derived from the helix, Helic Table creates unique spaces depending on its rotation and allows for privacy within the unit without the need for closed compartments. Made of solid wood and finished in two finishes. It is available in all black and in black with yellow interior faces.
Y Table S
Y Table S is about lines and planes. It is a side table comprised of steel, powder-coated in two different sheens. Its intersecting steel members create unique graphic compositions from every angle. It is available in black and white.