In Tokyo, Japan's Nishi-Azabu neighborhood sits the A' House, a private residence designed by Wiel Arets Architects (WAA). Surrounded by traditional, low-rise houses and narrow streets, the house appears like a faceted sculpture with oversized windows.
The windows are double layered, one being transparent and the other a textured glass that wraps the entire exterior, allowing the residents to control the amount of light that enters. Both panels of glass slide on tracks and completely open up for unobstructed views. When closed up, the house has a kind of iridescent shimmer about it.
One of these window panels serves as the main entry to the house on the ground floor.
When that panel is open, it reveals the kitchen to the street.
The ground floor hosts the kitchen and dining room. Below it, there's storage and room for the mechanical aspects of the house. On another level below, there are two bedrooms.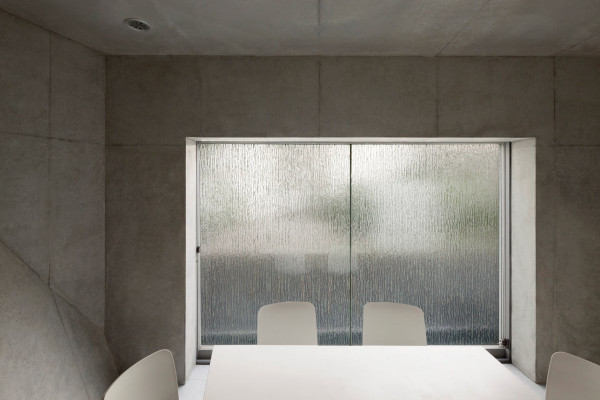 The house is made up of five spaces laid out horizontally, which are connected by a spiral staircase.
Above the kitchen, there's the family room.
The top floor houses the master suite, complete with a wooden soaking tub.
A terrace is located just off the bedroom and has one wall made of the same textured glass on the rest of the house.
The glass opens up to reveal views of the nearby park. When it's closed, the terrace has a more private feel.
Photos © Jan Bitter.