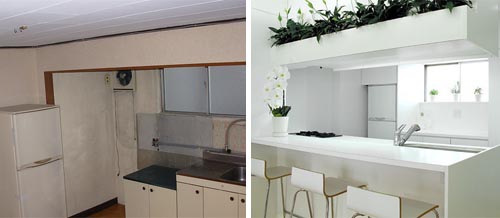 Alastair and Kayoko, aka BAKOKO, recently moved from London to Tokyo to expand their architecture business. They completely gutted and renovated their new Tokyo apartment, now it's a modern mansion marvel.
"Man-shi-yon" is a euphemism the Japanese long-ago appropriated to describe the generic concrete apartment blocks forming much of Japan's sprawling metropolises. The tiny units inside are often cramped and outdated by modern standards. "Reform" [or refurbishment] of any type of building used to be rare in Japan. The earth-quake prone country has always had a disposable disposition to its housing, preferring to tear-down and rebuild anew rather than re-use existing dwellings. Now, the boom and bust throw-away culture seems to be giving way to more sustainable resourcefulness and a preference for clean, modern living spaces.

New to Tokyo, we decided to transform a typical "mansion" apartment into a contemporary Japanese home. We arrived from London in late 2008 in need of a place to live and establish our emerging practice, BAKOKO. We settled on an small apartment in an eastern suburb, only 30 minutes by train from Central Tokyo. With a distant view of majestic Mt. Fuji to the West and a gaudy neon-lit "love hotel" to the East it truly embodies the modern paradoxes of Japan. Most people don't think that buying a home around Tokyo would be affordable, but unlike London or New York we were surprised when we didn't find ourselves priced out of the market here.
The transformation of this typical "mansion" apartment on the outskirts of Tokyo demonstrates the adaptability of Japan's post-war housing stock for providing affordable accommodation to the next generation of city dwellers.
Internal partitions were demolished to to maximize light penetration and provide an open-plan living arrangement. Closets flanking the main space are concealed behind full-length sliding doors.
A green line of foliage hangs above the dining kitchen counter, indirectly lit by a thin recessed strip of light opposite. Since standard fluorescent light strips are relatively inexpensive, we seized the opportunity to be creative with built-in architectural lighting features that create subtle effects and atmosphere throughout the interior. The rear window is framed by cabinetry, focusing natural daylight upon the rear preparation area.
Two of the central doors slide apart to reveal a hot [pink] desk as well as a full length mirror. The key to the live/work lifestyle is being able to shut one's work away and out of sight at the end of a hectic day.
The tatami area is not only a space for meditation, occasional dining, and entertaining. Come bedtime, a futon can be unfolded from the closet, thus saving space. The illuminated box along one wall holds nighttime reading material and doubles as a reading light and bedside table.
The timber "sunoko" [decking] and bathtub surround are made from Hinoki wood.