Tom Cecil is an innovative furniture designer based in the UK. He started out as a mechanical engineer, but soon turned to furniture and product design that incorporates his past experience exploring "how and why things work."
Stretched Table
A very thin sheet of steel is stretched across a steel frame to create a table. Supported only at the ends, the ratchet strap moves the base of legs together, the frame acting as lever, pulls the top tight with 30 ton of force.
Auxetic Table
A table made from sixteen hollow parts that are hand stitched together to create 24 articulated joints. The table can be opened and closed by either pushing, pulling or rotating a single part.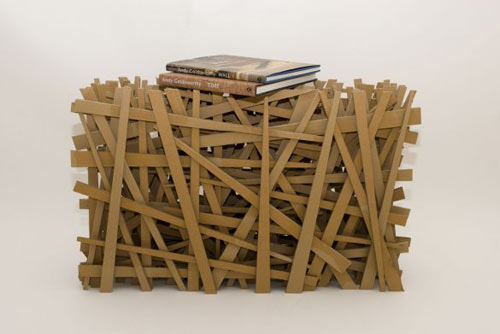 Cardboard Table
Cardboard sculpture that can also be used as a table when books are placed on its surface.
Dowel Table
Table made from 60ft of dowels.
Random Number Furniture
The process of creating this Random Number Furniture / 1T2S is an interesting challenge. Limited to a single sheet of plywood, Tom challenges himself by taking 128 random numbers and a sequence of mathematical functions to generate the geometry for the three intersecting objects that form 1 Table and 2 Stools.