Tomek Rygalik Shares the Circula Bench Designed for Social Interaction
Tomek Rygalik Shares the Circula Bench Designed for Social Interaction
1/23 Photos
2/23 Photos
3/23 Photos
4/23 Photos
5/23 Photos
6/23 Photos
7/23 Photos
8/23 Photos
9/23 Photos
10/23 Photos
11/23 Photos
12/23 Photos
13/23 Photos
14/23 Photos
15/23 Photos
16/23 Photos
17/23 Photos
18/23 Photos
19/23 Photos
20/23 Photos
21/23 Photos
22/23 Photos
23/23 Photos
Circula is an experimental project by Polish designer Tomek Rygalik developed within Design Nature, offering a tool for togetherness with the focus on sustainability. "Humans are social creatures," says Rygalik. "Human beings are not intended to be a solitary species: we are social animals. Today everyone's talking about distancing – but there will come a moment dedicated to recovery from all of this, both physically and relationally." Coming (slowly) out of a time when social interactions were a no-no, Circula encourages it within its circular shape. The ringed bench acts as a functional space for dialogue to begin after such isolating times. The round shape is intentional for the way it requires people to sit for conversation. It also stands for the circularity of the design, as Circula is made from durable, sustainable materials, including responsibly-managed FSC-or PEFC-certified wood, plastic made from 100% recycled packaging, and phosphate steel. In this month's Deconstruction, Tomek Rygalik gives insight into the design process of making Circula.
The initial concept sketch showing the tool for togetherness in essence.
These are visuals of the first 1:1 model testing scale, sitting proximity and ergonomics.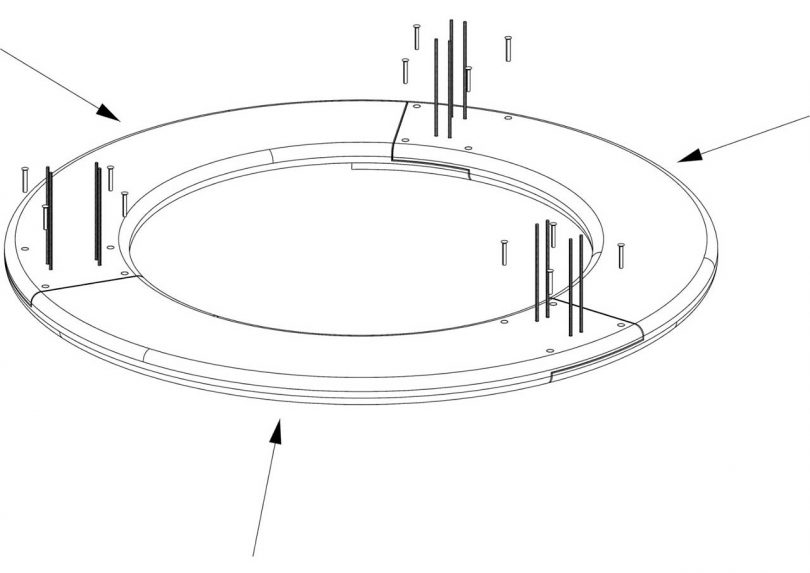 Inside out design of the wood construction and its assembly.
Sourcing wood, a naturally renewable resource, from suppliers conducting responsible forest management and therefore FSC® or PEFC TM certified.
In the shop, constructing molds for bend-lamination.
We test bending different diameters and wood sections while optimizing bending techniques to desired diameter of about 200 cm.
Preliminary CNC milling of parts.
Turning parts to the other side for milling.
Working on the development of the interlocking connection system.
Snug-fitting the parts into continuous circle form.
Sanding the wood, testing assembly of components and last touches.
Testing the construction and stability of Circula in use with a research group.
Protecting the surfaces with naturally pigmented oil.
Final assembly.
Circula was made in three versions, including this one made from recycled plastic.